Joint venture says site constraints mean it has to go tall
The developer behind the controversial Bishopsgate Goodsyard scheme in east London has said tall buildings are its only option for the job because only a third of the site is useable.
The Hammerson-Ballymore joint venture bought the 4ha site back in 2002 from the then Railtrack and is now hoping to finally start work on the scheme at the end of 2016.
PLP has drawn up plans for six residential blocks of 46, 42, 34, 30, 24 and 17 storeys. A lower, stepped development is also planned for the development which has been masterplanned by Farrells.
Opponents of the scheme have said the buildings are out of scale with the area, which sits on the Shoreditch fringe, but Hammerson's assistant director of development Rob Allan said: "We've gone for taller buildings because of constraints. There's only about 30% of the site where we can get piles into the ground. We've had to locate them [the buildings] in certain parts and that's why we've had to go for taller buildings."
Allan said that among the issues the site faces is the Central line running underneath it as well as a suburban railway line running out of Moorgate. Network Rail has space reserved for extra railway lines that may be required to run into Liverpool Street station while the site's Braithwaite Viaduct is listed at grade II.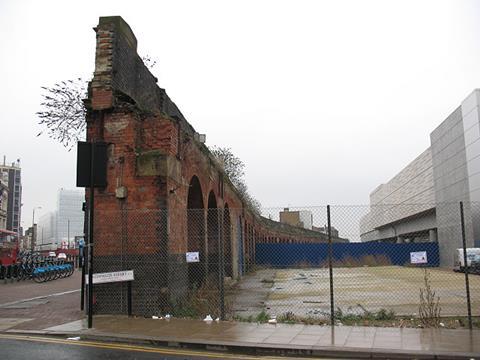 And he added that other tall buildings were going up in the area, including Foster's Principal Place development which includes a 50-storey residential tower while the 25-storey Avant-Garde residential block by Stock Woolstencroft is already up. "There's context there," he said. "We are responding to what's going on in the area."
The scheme is proposing 1,500 homes as well as 50,000sq m of offices and up to 20,000sq m of retail being built in four phases over 10 to 15 years.
Opponents have claimed local people will be priced out of the area and that many of the homes will be snapped by up overseas investors.
But Allan said: "We are more than confident this scheme will be occupied by people who live and work in the area. It's a very diverse area and we're keen to maintain that balance."
He said the developers had taken into account opponents' concerns about the heights of the buildings. "Clearly there is a relatively vocal opposition to the scheme focused on the height. We've put out what we feel is the right scheme."
The two taller buildings had been reduced by a combined 22 storeys but Allan said any further culling would make the scheme unviable. "If we had to knock a third off, the economics of the scheme become increasingly challenging."
Homes will range from studios to five bedrooms with around 10% designated as affordable. Ballymore's senior development manager Jon Weston added: "As a joint venture, of the last 2,500 units we're produced we've had an occupancy rate of around 96%.
"It's important to differentiate this site away from places like Kensington and Chelsea. We want people to occupy it, we don't want empty units. It's very important to make it a thriving community."
Two planning authorities, Hackney and Tower Hamlets, are now running the rule over the application which went in over the summer. A public consultation with both councils ended last month.
Most of the residential units are in Tower Hamlets with the commercial, some of which is being designed by Buckley Gray Yeoman, in Hackney. The remaining commercial work will be decided by a design completion.
Other architects working on the scheme include Chris Dyson Architects, responsible for the historic properties, Faulkner Browns Architects, which has been appointed to the scheme's retail element, and Spacehub which is lined up for a park.
Source
This story originally appeared on Building Design here.