Mayor of London tells Mipim that tackling London's airport capacity problem and fast-tracking Crossrail 2 are his key infrastructure priorities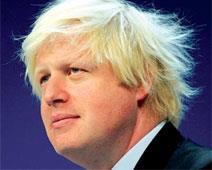 The Mayor of London Boris Johnson has told the Mipim property conference in Cannes that his two infrastructure priorities for the remainder of his second term are Crossrail 2 and aviation.
He told delegates he was determined to push the timetable for Crossrail 2 to make sure it completed before 2032 and that it was developed "alongside" Crossrail 1.
Johnson - who arrived late for his speech due to snow delays at Heathrow - said his second priority was to find a solution for the south east's "shameful" lack of airport capacity.
He commented on London infrastructure as he unveiled plans for a "floating village" in east London, which he joked was "London's answer to Venice".
He said the "town on stilts" will be "a new fashionable district that rises above the water".
He added the potential development area on the river in east London was "double the size of Soho".
He said London development activity was returning: "Cranes are once again swaying and great buildings are sprouting on our horizon."
The GLA continues to consult on its 2020 infrastructure plan, he added.