Developers and businesses should contribute a third of projects costs, London First report finds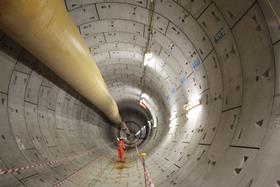 London developers and businesses should pay around a third of the cost of Crossrail 2, according to a study by business group and promoter of the scheme London First.
The report (attached right), compiled by a panel of experts including bosses of Lend Lease, Bechtel, CH2M Hill and KPMG, also estimated the scheme would cost £4bn more than it initally expected, after the inclusion of contingency budgets.
London First said one third of the costs would need to be paid by central government and Network Rail; another third would be paid by Transport for London and Crossrail 2 commuters; with the final third coming from business, property developers and residents.
It said developers' contributions would total £1bn, business rates could contribute £1.8bn and allowing more intense development at certain points on the line, such as around major stations, could increase the cash raised from developers by a further £2.5bn.
It said the Mayor of London could continue to raise half of the developers' contribution from the controversial Community Infrastructure Levy (CIL), as he has been done with Crossrail 1.
Chair of London First's Crossrail 2 task force Francis Salway, former chief executive of developer Land Securities, said a "failure to invest" in Crossrail 2 would "make life intolerable for Londoners" and "hamper London's economic growth".
He added: "We may be half way through Crossrail 1, but its success - and the pressing need for extra capacity in London - means now is the time to be pushing forward with plans for Crossrail 2."
The analysis was based on the assumption the scheme would cost £16bn, in 2012 prices, £4bn more than it has estimated it would cost in the past.
The report said: "The 'central' cost estimate of £16bn, which adds a significant buffer for contingency, is broadly comparable to the cost of Crossrail 1, which is in many ways a similar project."
It said the project could cost as much as £20bn if the Treasury's required 66% contingency budget was included in the figures. It said £12bn was now its lower cost estimate.