Housebuilder unveils strong results, with profit, margins and completions all up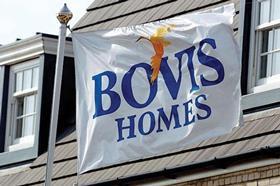 Bovis Homes has unveiled strong half year results with pre-tax profit doubling during the six months to 30 June 2012.
Pre-tax profit jumped to £16.2m from £8.1m last year, while the firm's revenue rose to £170.3m from £133.6m.
Operating margins grew to 10.3% from 7.5% and Bovis said it expected to boost its margin further to 11% for the full year.
Bovis completed 944 homes, up from 801 last year and said it will build on an average of 83 sites during this year.
David Ritchie, chief executive of Bovis Homes said: "The Group has delivered a strong performance during the first half of 2012 with profit before tax doubling against the backdrop of stable, but challenging, market conditions.
"This increase has been delivered through the compound positive effect of increased volumes, improved average sales price and stronger profit margins.
"As a result of a greater number of active sales outlets with an increasing proportion of new, more profitable sites, the Group's profits will, subject to stable market conditions, continue to increase significantly in the second half of 2012, in line with the Group's expectations.
"The investments already made in high quality, consented residential land, combined with the strong pipeline of future land opportunities, will support further sales outlet growth into 2013 and beyond.
"While investing strongly, the Group is controlling capital employed through land bank management and by managing working capital tightly, which will, based on stable market conditions, lead to strongly improving shareholder returns going forward."