Housebuilder expects 'significant' profit growth this year with completions set to rise 25%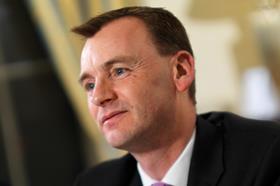 Housebuilder Bovis Homes is to stop working in the North-east, the company's chief executive David Ritchie has told Building.
He said the housebuilder would finish developing its current sites in the region over the next five years but that it "would not be buying any land in Yorkshire, Lincolnshire and the East Midlands".
"We are investing in the corridor between Birmingham and Manchester," he added.
Ritchie (pictured) said he would focus on the housebuilder's core market of family homes in the south of England.
"We are a business that is largely based in the South and we find the market very predictable in terms of the level of people expressing interest. The conditions are stable," he said.
In a trading update this week, the firm said it had performed strongly in the six months to 30 June, ahead of its half year results for the period, which will be published next month.
Bovis' operating margin for the half year increased from 7.5% over the same period in 2011 to 10%, thanks to a £3.9m profit from land sales.
Completions also rose 18% from 801 to 944, while the group's average sale price increased 1% to £164,400.
Ritchie predicted that Bovis Homes would see a "significant" growth in profit this year, with the firm expecting to build 2,500 homes in 2012, up from just over 2,000 in 2011.
"If we grow the business by 50% in a flat market about 3,000 units is something we can see in the short-term future," he added.
Ritchie said he did not feel threatened by the rapid growth of competitor Linden Homes, which in May reported a 43% rise in sales in the first half of 2012, saying he expected Bovis to match it.