Acquisition of CEEQUAL part of BRE move to create a new BREEAM infrastructure standard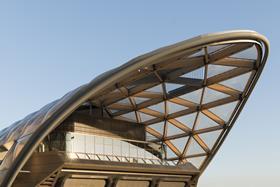 The BRE has acquired a rival green rating scheme as part of plans to launch a new sustainability standard for infrastructure.
The BRE - which is the organisation behind the BREEAM certification - has acquired the CCEQUAL rating scheme, a sustainability assessment scheme for civil engineering.
The deal will see CEEQUAL transfer its business operations to BRE division BRE Global.
The BRE said the move would meet the industry's desire for a single sustainability rating scheme to meet client and contractor needs across both buildings and infrastructure.
The BRE has already launched a pilot BREEAM infrastructure scheme. The organisation said this pilot, together with a planned upgrade of CEEQUAL, would feed into the launch a new combined sustainable infrastructure standard in 2017.
The CEEQUAL scheme is an established infrastructure standard and has been used on projects including Crossrail and the London 2012 Olympics. It is also increasingly being used outside the UK, in countries including Sweden and Qatar.
Peter Bonfield, chief executive of the BRE, said: "Our long term aspiration with a single scheme is to bring together the significant experience and expertise behind the two rating systems to deliver enhanced environmental and social benefits for civil engineering works and better economic outcomes that benefit society, and broaden up-take in the UK and international markets."
Roger Venables, chief executive of CEEQUAL, said: "I and my colleagues look forward to working with BRE to develop the next generation rating scheme that will address the significant challenges faced by those working in the sector."
The CEEQUAL scheme measures the sustainability of civil engineering and infrastructure projects against a standard set of requirements, and is promoted by the Institute of Civil Engineers (ICE), as well as other associations including CECA, ACE and CIRIA.
It comes after Building revealed last month that the BRE had signed a £20m deal with Chinese property giant Evergrande to advise it on a £200m green retrofit programme across its entire property portfolio.
The partnership will see the BRE and Tsinghua University – the Chinese equivalent of the BRE – help Evergrande retrofit its properties to BREEAM International and Chinese 3-Star sustainability standards.
It will also see the BRE and Tsinghua University collaborate on research and development.