Swiss practice has London office in Clerkenwell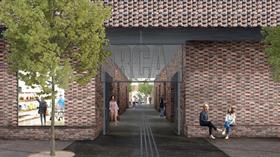 A director at Herzog & de Meuron has said Brexit will be a challenge for the firm as it faces uncertainty about the status of its largely international workforce in the UK.
The practice is based in Basel, Switzerland, but has an office in London to oversee delivery of projects including a research centre for AstraZeneca in Cambridge, being built by Mace, and a new building (pictured) for the Royal College of Arts in Battersea, south London, being built by Kier.
Submissions to the ARB register show the firm has 14 staff opererating in the UK, eight of whom are registered to an address in Clerkenwell.
Ascan Mergenthaler, senior partner at Herzog & de Meuron, which was behind the Tate Modern exteison, also built by Mace, said: "We are hoping Brexit is going to be okay for us but of course it is always a challenge because we are very international and people who work with us are from all over the world. That's the biggest risk."
He added: "It will certainly make things a bit more challenging, a bit more difficult, but it probably won't have too dramatic an effect."
His comments echo concerns outlined by RIBA and former architecture minister Ed Vaizey who have both flagged up issues over the status of EU architects working in the UK post-Brexit.