Consultant adds that skills shortages are pushing up wages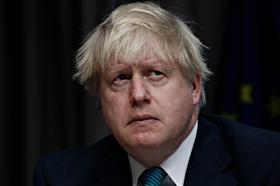 The UK construction market is continuing to tread water, with further delays to Brexit making a post-deal bounce now increasingly unlikely, Arcadis has warned.
According to the consultant's Spring Market View, the short-term inflation forecast has remained steady, sitting between at 2% and 3% to 2021, with many clients opting to take a 'wait-and-see' approach and sit-out the current political turmoil.
Arcadis said ongoing questions around political leadership and a potential election were affecting investment decisions, with business planning being hit by the uncertainty.
The favourite to be the next prime minister Boris Johnson (pictured) launched his bid to lead the Conservative Party yesterday with a new leader due to be announced in the week beginning 22 July – three months before the UK is due to leave the EU at the end of October.
Arcadis said delays in converting pipeline into turnover are adding competitive pressure to the market, although the trend is highly sector specific. Markets such as data centres are particularly busy, while others including offices, industrial and schools are on a downward curve.
Arcadis said while there was enough competition to put a partial brake on input cost inflation in the short to medium term, the anticipation of tighter labour markets from 2022 to 2023 meant costs were predicted to rise by 1% per annum, reaching 4% by 2022.
Simon Rawlinson, head of strategic research and insight at Arcadis, said: "With skilled EU labour making up 8-10% of the workforce, specialist contractors and employers have been shielded from the necessity of developing and maintaining the skills of their workforce.
"However, with the prospect of post-Brexit restrictions on migration, we're now facing a real crisis in terms of future labour capacity. The supply chain will need to look at other options for increasing productivity."
The report also found earnings growth for construction employees averaged 4.2% over the past year, up from 2.1% in 2017, on the back of the skills shortage.