Firm follows WYG lead and sets up Amsterdam office to make sure it complies with EU rules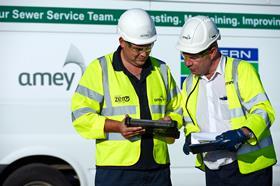 Spanish infrastructure firm Ferrovial is the latest firm to set up an office in Amsterdam because of Brexit.
Ferrovial, which owns Amey, said the process of moving its international holding company from Oxford to Amsterdam had begun and will complete during the next few weeks.
A spokesperson for Ferrovial said: "The reason for the move is to maintain the group's international companies under the umbrella of [EU] communities' legislation.
"Operations in the UK will remain exactly as they were. Workers will still be in Oxford as they should be – there will be no employees in Amsterdam."
Ferrovial is Heathrow's biggest shareholder, owning around 25% of the airport MPs voted in favour of expanding earlier this week.
It is also working on HS2's central enabling works package in joint venture with Bam Nuttall and Morgan Sindall.
Earlier this month, consultant WYG revealed it had set up an office in Amsterdam to ward off the threat that £30m worth of income might disappear after Brexit.
WYG chief executive Douglas McCormick, who took up the post last June after nearly two years as the boss of Sweett, said its new Dutch base would help it win work in the region if the UK's negotiations to leave the EU turned sour.
He added: "Very simply this is a mitigation measure in anticipation of what Brexit might mean. We derive 20% of our revenue from Europe and we want to protect that. We want to work in the region."
WYG said having an office in Amsterdam meant it "remained eligible under the relevant EU regulations to bid for, secure and deliver work funded from the EU Budget or EU Development Funds".
Its Amsterdam office is a holding and management company called WYG International BV which was created at the end of last year after WYG merged its international business with a newly-created company registered in the Netherlands.
The firm has moved a single director from the UK to work at the Amsterdam office, which currently employs 40 staff who are all based in the UK.