Sources say Treasury rubber-stamped £900m deals – giving contractors fillip for future of project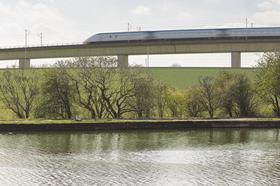 Industry insiders are hailing yesterday's contract awards on HS2 as the surest sign yet that the scheme to build the new railway will go ahead.
Already this autumn, the government has given the new nuclear power station at Hinkley the green light and come down in favour of expanding Heathrow Airport.
HS2 has the biggest pricetag of the three schemes – collectively known as the three H's – with the first phase of work, running from London to Birmingham, estimated to be £22bn.
Yesterday HS2 let a slew of enabling works contracts for this phase with a Laing O'Rourke and Murphy joint venture winning the northern contract, a JV comprising Bam, Ferrovial and Morgan Sindall scooping the central section and joint venture partners Costain and Skanska taking the southern deal. Each contract is worth £300m.
Sources close to the client said HS2 Ltd had been required to get sign off from the Treasury before announcing the deals, adding it meant there was no going back from government on HS2 now.
One source said: "It's the first major procurement in weeks. It's a huge commitment – politically it's a huge step. It's not just words now. [HS2] had to get Treasury sign off for [awarding the contracts]."
Another said the biggest approval from government towards the project was its decision to confirm the northern routes of the project, known as phase two which will see two routes running from Crewe to Manchester and Birmingham to Leeds.
He said: "[HS2 Ltd] has to get approval from the Treasury for anything of this scale. It's a great show of confidence. Phase two is the ultimate show of confidence from the government."
The enabling works packages come ahead of main civils works contracts – worth a combined £8.6bn – which are due to be awarded in the second quarter of next year.
Industry insiders are tipping Costain and Skanska as frontrunners for work including the £900m Euston tunnels and approaches contract after landing the southern enabling works package on phase one.
This deal involves work around Euston station and a source close to the bidding process told Building: "Doing stuff around Euston is hugely complex. [Costain and Skanska] will like to believe they have an advantage for the civil engineering contracts and definitely for the Euston one."
Other civils packages include a £1.5bn contract for tunnelling in Warwickshire and a Birmingham spur, and a £1.3bn contract for tunnelling and a tie-in to the West Coast mainline.
Meanwhile consultancy roles worth £520m are the next high-profile contracts to be awarded.
Bechtel, CH2M and a Mace and Turner & Townsend joint venture have been shortlisted for the development partner role, worth £170m.
Meanwhile, four teams are in the running for civils design and environmental services roles, worth £350m. The first is Aecom, Atkins and Spain-based INECO, the second is Arup, the third is an Atkins and Arcadis joint venture, and finally Mott MacDonald with WSP.
A decision had been due next month but this has now been pushed back to next February.