Only Bristol is expected to show growth in tender pricing, according to consultant's report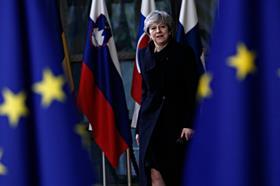 Brexit uncertainty will dampen tender price growth across the UK this year and will continue into the early part of 2019 as negotiations between Theresa May's government and officials in Brussels grind on, according to a new report.
The latest global data research from cost consultancy Rider Levett Bucknall said that while construction output remained high in the UK, the outlook was "clouded" by the uncertainty around negotiations with Brussels and the looming deadline of 29 March 2019, when the UK leaves the EU.
RLB's tender price index showed that only Bristol will show signs of growth in 2018, boosted by an upturn in residential development, while Leeds and Sheffield were heading into deflation territory, although RLB's figures suggested both Yorkshire cities would bounce back in 2019.
Residential activity in London continued to be a major contributor to workload, as well as Crossrail works and large-scale commercial office developments, but it noted that rising input costs were not feeding through to bid-pricing "due to competitive pressures across the market".
The RLB report said uncertainty around Brexit was expected to continue into the early part of next year, with concerns being linked to all aspects of the production chain.
"On the one hand, development opportunities may be stayed until the outcome becomes clearer, which will necessarily affect contractors' acquisition of replacement workload.
"On the other, input costs will continue to rise, due to effects ranging from exchange rate fluctuations, to labour availability issues, materials cost and availability concerns."
RLB also noted the concerns around the impact UK's Brexit could have on the potential for EU citizen workers to be asked to leave the EU and go back to their home country.
"London would be particularly affected by a further fall in numbers of available tradespeople and general labour which could arise from an unfavourable outcome of negotiations.
"Associated effects could also be felt elsewhere across the UK. A softer Brexit solution, with a longer transition, would permit the industry to draw breath and adapt, but whether that is possible remains to be seen," it added.
Earlier this month consultant Turner & Townsend said it expected input costs to rise by 5% over the next 12 months and highlighted Brexit as the biggest concern for the industry in the capital.
And last week Gleeds' boss Richard Steer laid into the government's handling of the UK's exit from the EU, suggesting that mishandling by ministers had cost his firm money.
% Tender Price Index forecast
| City | 2017 | 2018 (F) | 2019 (F) |
| --- | --- | --- | --- |
| Birmingham | 2.8 | 2.5 | 2.3 |
| Bristol | 2.5 | 3.0 | 3.0 |
| Leeds | 2.0 | -1.0 | 4.2 |
| London | 2.0 | 1.3 | 1.0 |
| Manchester | 2.0 | 1.0 | 1.0 |
| Sheffield | 2.0 | -1.5 | 3.8 |
Source: Rider Levett Bucknall