Uncertainty over what Brexit will look like has increased, firm's boss says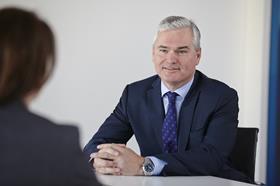 Improving business conditions in North America and the UK helped Turner & Townsend post annual revenues in excess of £500m for the first time.
But the firm flagged up worries about Brexit, saying it was more worried than ever about leaving the EU.
T&T chairman and chief executive Vince Clancy said real fears were starting to emerge around what a future deal with the EU – and other global trading partners – might look like.
"We're more worried than we were 12 months ago. We're at a tipping point and the level of uncertainty has escalated," he said.
Earlier this month T&T warned that the London construction market was facing a 'Brexodus' of talent.
T&T's second quarter market intelligence report said the industry was "caught in a double bind – weak demand as clients defer investment decisions, and a long-term skills shortage which is driving up labour costs and slicing into contractor margins".
Two years on from the Brexit referendum the skills shortage was "at a turning point. An exodus of foreign-born workers and a demographic time bomb threaten to shift the skills crisis from serious to chronic."
The group saw turnover for the year to 30 April 2018 up 12% at £549m and an 18% increase in operating profit to £55.5m. Pre-tax profit rose 17.5% to £54.7m.
"It's been another strong year," said Clancy. "It's been a year of landmarks, as we've been a beneficiary of increased spending, particularly in infrastructure."
Reporting a 21% revenue hike in North America to £86.6m, Clancy (pictured) said the consultant's performance in the US was being given a lift by the country's strong business environment, while investment in the oil, gas and mining sectors was also a factor.
In addition to strong showings from the UK – where revenue rose 12% to £239m – and the US and Europe, better trading was returning to markets in Asia and Africa, Clancy said.
"We've seen some tough conditions in Asia and Africa, but things are getting better now. In Asia we're seeing work coming through local large multinationals working on infrastructure schemes, while investors are returning to sub-Saharan Africa."
In January this year T&T merged with Kenyan consultant Mentor Management, a move it claimed made it the largest project management consultancy in East Africa.
T&T's real estate operation generated revenue of £264m up 12%, boosted by growing demand from high-tech clients, while revenue at its natural resources business grew 8% to £57m.