Scheme at 2 Finsbury Avenue, drawn up by Danish architect 3XN, is third high-rise to get Square Mile OK in recent weeks
The City of London has approved its third tower in less than a month after planners this morning gave the green light to a 38-storey scheme by Danish architect 3XN for British Land's Broadgate development
The scheme at 2 Finsbury Avenue is 3XN's first project in London and others working on the job include executive architect Adamson, the firm which worked on the Shard, structural engineer Ramboll, QS Core 5 and project manager Gardiner & Theobald.
Sir Robert McAlpine has been carrying out much of British Land's redevelopment of Broadgate and is finishing up work on 100 Liverpool Street, whose completion has been delayed by the covid-19 pandemic, while it is also working on AHMM's 1-2 Broadgate.
But other tower builders have been running the rule over the job and last year its head of development Nigel Webb told Building it was "too early to say" what the developer's building plans were on the scheme.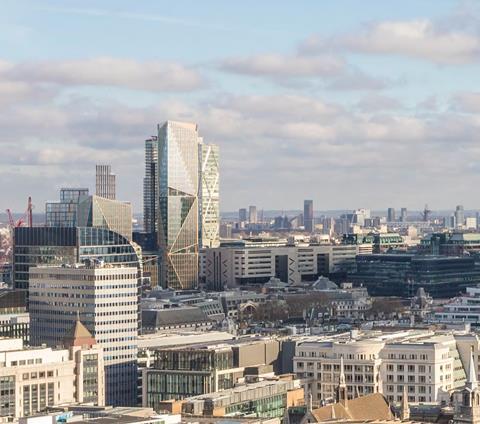 It will feature just over 85,000 sq m of office space, along with retail and restaurants and replaces already consented plans by Arup for a 32-storey tower that was approved in March 2018.
As well as the taller East tower, the revised scheme will feature a smaller, 20-storey West tower with the pair linked by a 13-storey podium that will contain green spaces and communal areas.
Work will involve knocking down two buildings at 2-3 Finsbury Avenue built by British architect Peter Foggo in the 1980s.
In a planning statement sent to City of London planners last autumn, British Land says: "The consented scheme was the culmination of a design originally conceived in 2014. The transformation of Broadgate has progressed since [it] was approved, and occupier and workplace requirements have evolved since then too. These new proposals respond to this changing context and propose a new approach to the Site's redevelopment, including a best practice approach to sustainability, workplace design and inclusion."
Neighbouring authority Hackney council had objected to the 3XN plan saying it would blight parts of the borough including the Sun Street conservation area, a grade II listed pub and locally listed buildings at 5-15 Sun Street.
But the development became the third tower in the Square Mile to get the thumbs-up in four weeks after proposals by Hong Kong developer Tenacity for two schemes on Gracechurch Street were OK'd.
Fletcher Priest's plan for a 32-storey tower at 55 Gracechurch Street was approved last month while last week KPF's proposal for a 33-storey tower at 70 Gracechurch Street got the green light last week.