Industry expresses fear of slowdown after Osborne budget surplus announcement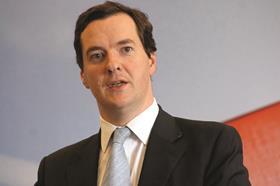 Industry leaders have expressed fears of a potential government slowdown in infrastructure spending after chancellor George Osborne announced plans to legally require future governments to maintain a budget surplus in both current and capital spending.
Reports also emerged that ministers are not going to provide a formal response to the Davies Commission on airport capacity until the end of this year - six months later than publication of the commission's report, which is expected later this month.
In his annual speech at Mansion House in the City of London, Osborne outlined his plans to limit government spending to no more than what is taken in in revenue in "normal times" - understood to mean when the economy is not in recession. This will include both day-to-day spending and capital spending on infrastructure projects.
Alasdair Reisner, chief executive at the Civil Engineering Contractors' Association, recognised the government's need to reduce the deficit, but said it was "vital" the government acknowledged why spending is needed on infrastructure.
He said: "The government has made great strides in reducing the deficit, but it's crucial we don't decide that it's more important than capital investment in infrastructure."
It has also emerged this week that ministers will not provide an immediate response to the Davies Commission, with a formal ministerial response not expected until the end of the year.
David Leam, director for infrastructure policy at business group London First, acknowledged that the Department for Transport needs time to digest the report, but warned that taking until Christmas time to provide a response "risks creating a vacuum over the autumn which critics of airport expansion will happily fill."