Firm now expected to beat forecasts for full-year results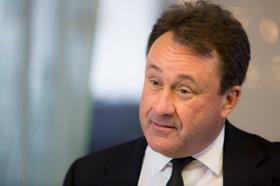 Morgan Sindall has said it is upgrading its target margins for its biggest business over the coming years after turning in another set of thumping results with the firm now expected to beat forecasts for its full year.
The firm gave construction and infrastructure an operating margin target of 2.5% last August but this has now been revised upwards on the back of a strong first half this year.
Construction saw operating margins come in at 2% – up from 1.7% for the same period last year – while infrastructure posted 2.1%, up from 1.7% last time.
But chief executive John Morgan (pictured) said the firm had now set a target of 2.5% for construction in the medium term, which he said was the next two to three years, with infrastructure handed a 3% figure over the same period.
"I'm not quoting margins that I don't think are achievable or realistic," he said.
Around 90% of the firm's infrastructure business – which accounted for just over half of the firm's £679m construction and infrastructure revenue in the half year – is in long term frameworks and Morgan admitted: "People can make a bit more out of infrastructure. There are fewer bigger infrastructure players than there are in the construction market."
Workloads at its fit-out business, which is fitting out six floors of the 100 Bishopsgate tower in the City for the Royal Bank of Canada and carrying out work at the headquarters of Virgin Media in Reading, slipped 4% to £407m with operating margins dropping to 4% from 4.4% last time.
Morgan said he still expected the business, which trades under the Overbury and Morgan Lovell names, to hit the higher end of its targeted £30m-£35m annual profit range.
He added: "There's quite a lot of work about, it's just not as booming as it once was. Our average job is £2m so in fit out we need to win a job every day."
Morgan Sindall's partnership housing business improved numbers but Morgan said it was not doing as well as it could be. "Partnership housing is not making the money that best in class are doing so we have some work to do there." Revenue at the division was up 3% to £238m with operating profit up one third to £6.4m on operating margins up from 2% to 2.7%.
In the six months to 30 June, group pre-tax profit was up 19% to £35.5m on turnover flat at £1.4bn. Operating profit was up 18% to £37.5m with operating margins now at 2.6% from 2.2% for the first six months of 2018.
As a result, the firm said it expected to beat previous pre-tax profit forecasts of £82m with this figure now expected to be around the £85m mark. "We wouldn't have upped the expectation if we didn't feel positive," Morgan added.
Stephen Rawlinson, analyst at Applied Value, said: "The statement is based on hard facts not boosterism. It is the culmination of five-six years of development to ensure low risk on projects and a good mix of activity. It is possible to make good and consistent earnings in this area and avoid large marquee jobs that can too easily backfire, the real causes of the decline of Carillion, Interserve and now Kier."
In its last set of full year results, the firm made a pre-tax profit of £80.6m on turnover of £2.9bn.