Oliver Dowden says it is 'confident' struggling firm will be able to carry on delivering public sector contracts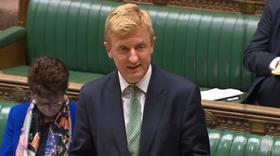 The government has begun to address a series of questions Labour is demanding answers to over what impact Kier's financial problems and its decision to get rid of 650 people by the end of this week will have on its ability to carry out public sector work.
Around half of the firm's £4.5bn turnover is through public sector jobs and under the restructuring plans, Kier will cut a further 550 jobs by the middle of next year and pull the plug on a host of businesses.
In written questions, tabled last Wednesday, shadow Cabinet Office minister, Jon Trickett, asked his counterpart David Lidington to come up with reassurances that a string of public sector jobs will not be left high and dry by Kier's problems.
Among the questions Trickett wanted answers to are whether the jobs cull mean Kier will be unable to fulfil its public sector contracts and whether the government has been speaking to the firm in order to get assurances these contracts won't be hit by problems in the future.
On Monday, Cabinet Office minister Oliver Dowden told Trickett: "We remain in close communication with Kier's management and will continue to discuss their proposed strategy."
Dowden (pictured) said the government was "confident" Kier was able to carry on delivering public sector contracts.
He repeated warnings made earlier this year that from September if firms are late with supplier payments they could be barred from winning public sector jobs in the future.
He said: "Suppliers that cannot demonstrate a fair, effective and responsible approach to payment in their supply chain should expect to be excluded from the procurement process for major government contracts."
Last week Building revealed that Kier's outgoing finance boss Bev Dew had admitted to the chair of the business select committee, Rachel Reeves, that the contractor takes an average of 55 days to pay subcontractors on public sector jobs – despite a requirement to pay all undisputed invoices within 30 days.
Kier chief executive Andrew Davies said: "These actions are focused on resetting the operational structure of Kier, simplifying the portfolio and emphasising cash generation in order to structurally reduce debt."
Kier is due to unveil its annual results for the year ending June in September.