UK Green Building Council calls prime minister's promise to cut environmental guidance "utterly reprehensible"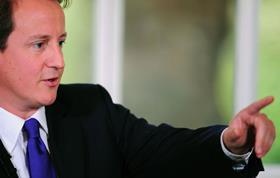 David Cameron has been accused of employing "poisonous political rhetoric" after he promised to slash environmental guidance for businesses.
The prime minister is due to make a speech later today to the Federation of Small Businesses in which he will outline how the government is cutting red tape for firms.
He is due to say the government will "make it vastly easier and cheaper for businesses to meet environmental obligations".
"By March 2015 Defra will have slashed 80,000 pages of environmental guidance saving businesses around £100 million per year," he is set to say.
But Paul King, chief executive of the UK Green Building council, said the policy was "utterly reprehensible".
He added: "It is the same poisonous political rhetoric from Number 10, devaluing environmental regulation in a slash and burn manner. These words are not only damaging and irresponsible, but misrepresent the wishes of so many modern businesses, both large and small."