Alfa Romeo sculpture made of 12 tonnes of steel is centrepiece of 2010 Festival of Speed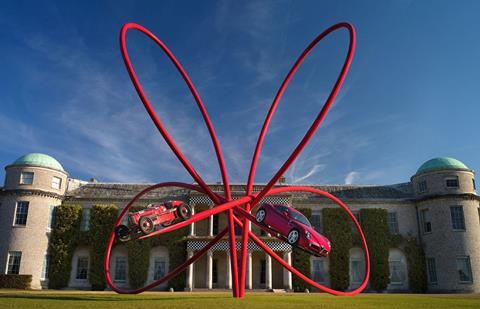 Capita Symonds' structures team provided structural engineering design for the central sculpture at this year's Goodwood Festival of Speed over the weekend.
The display – sponsored by Alfa Romeo to celebrate the company's centenary – was designed for the event by sculptor Gerry Judah.
The structure's design features an Alfa Romeo P2 (a P2 won the inaugural Automobile World Championship in 1925) and a 2003 8C Competizione.
Standing at 18.5m high and 25m across, the sculpture is made from 12 tonnes of steel. Although it appears to be 175 metres of continuous tube twisted into position, it actually consists of 32 precision sections of 323.9mm diameter steel.
The steel sections also had to fit together seamlessly first time, with no opportunity for mistakes or second chances.
It's the sixth year in a row that the Capita Symonds team has worked on the structure. The team's role was to develop the artist's sketches into a three dimensional shape that balances elegance, structural soundness and practicality to build.
Main contractor services including steelwork fabrication, installation and finishing, were provided by Littlehampton Welding.
A new sculpture is created for the festival each year. As with its predecessors, it only remains for the duration of the festival and will now be dismantled.