Former Capita Symonds division enjoys strong first year as Capita Property and Infrastructure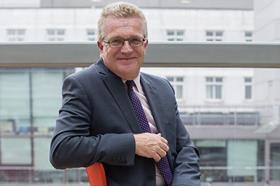 Capita's property and infrastructure division posted strong financial results for the year to 31 December 2013, with operating profit more than doubling over the period.
The business is also planning to recruit 200 additional staff this year in response to improving UK market conditions, the division's chief executive Richard Marchant has told Building.
The recruitment drive will boost Capita Property and Infrastructure's headcount by 5% to 4,000.
The news came as the division - rebranded from Capita Symonds last summer - grew operating profit by 129% to £16m in the year to 31 December 2013, up from £7m the previous year.
Revenue rose 9% to £297m, up from £273m.
Marchant said the division had completed restructuring its design and management business during the period and expected revenue and profit to be "significantly better in 2014", adding: "we get that confidence from our sales numbers and pipeline".
Over the period Marchant said the division had enjoyed a "significant upturn" in London, while work was "starting to pick up" in the regions.
He said the firm's regeneration and health market sectors, as well as its project, cost and construction management teams in London, were performing well.
He said he expected Capita to find out the winner of the race to become the Defence Infrastructure Organisation's strategic business partner "very soon".
The contract is worth up to £400m plus. The three shortlisted bidders are: Telereal Trillium, KPMG and Mace; Serco, DTZ and Bechtel; and Capita, URS and PA Consulting.
Marchant said that, should Capita win, it would be a "sea change" for the business.
Outsourcing giant Capita disclosed the figures as it published group-wide results for the period last Thursday.
Revenue across Capita was up 15% to £3.9bn, while pre-tax profit rose 14% to £475m - boosting the firm's share price 73p, or 7%, to £11.58.