Former boss Richard Howson says he asked for international trade secretary's help over money owed on Qatar and Oman jobs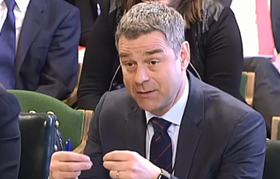 Carillion bosses asked trade secretary Liam Fox to step in to help it recover cash on problem jobs in the Middle East.
Fronting the public accounts and public administration and constitutional affairs committees yesterday, former chief executive Richard Howson (pictured) revealed the collapsed contractor had sought a helping hand from the government to recoup cash.
Howson said: "We also asked for and got support from the secretary of state to help us try leverage receivables into cash in the Middle East during 2017.
"We briefed the secretary of state for international trade in April or May of 2017 on an increasingly difficult situation in Oman and Qatar asking him to help us, alongside the ambassadors in those countries, to get a fair administration of those contracts."
Howson revealed the company was owed £200m by Qatari developer Msheireb Properties at another parliamentary inquiry earlier this month. Msheireb denied the claim.
The MPs running the hearing also questioned the Carillion directors on what goverment contracts awarded to the firm following its £845m profit warning last July had meant to the company, particularly its roles on HS2 and a support services contract with the Ministry of Defence.
Keith Cochrane, the man who took over from Howson in July, said: "A business such as Carillion is underpinned by confidence, the confidence of its supply chain and employees and the fact that a major customer was continuing to award us new work was certainly a sign of confidence.
"It was encouraging in terms of our conversations with banks as it demonstrated the underlying work this business was doing was well regarded."
But Emma Mercer, the group finance director when the firm went bust, said while the jobs had boosted confidence they had not helped the company's financial position.
Mercer said: "I would add those contracts we were awarded brought very little benefit financially in terms of cash into the business during the time to January."
Last week, Building revealed that new documents showed that Carillion was using the government contracts to convince thousands of suppliers to stick with it.
The deals emboldened the firm to send out a supplier briefing note 11 days after the £845m writedown saying it was "committed to business as usual" and that the awards were "a sign of the confidence that our key customers have in our ability to meet their requirements".