Credit firm's report says sector's first quarter revenues down by 6% to £294bn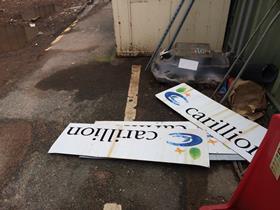 Carillion's collapse earlier this year contributed to a 6% sales slump across the wider construction industry during the first three months of 2018 and a 73% increase in the number of company failures over the same period, according to new research.
The latest quarterly Watchdog report by Norway-headquartered credit security firm Creditsafe said it was seeing similar challenges across other industries and it was a "waiting game to see what the mid to longer term future will deliver".
The report said UK construction revenues fell from £313bn to £294bn in the first quarter of 2018, while 934 firms went into receivership.
The construction sector was also hit with bad debts nearing £17m in the first quarter, the report revealed, up a third on the previous three months.
"Directly linking these disappointing figures for the construction sector to Carillion would be too simplistic," it said, "but clearly the impact had been felt at the start of the year and now the road to recovery is unpredictable."
But while industry sales were down, retained profit, employment, start-ups and net worth all saw a boost compared to the last three months of 2017.
Cato Syversen, Creditsafe's chief executive, said high profile corporate collapses and scandals in the last three months had been costly and had undermined confidence in UK business.
"It's particularly disappointing following the previous three months, where we reported a fourth quarter rise in sales and fall in bad debt.
"In the last three months, we have seen more than 1,000 companies fail, a rise of over a quarter," he added.
Carillion's collapse has also galvanised UK MPs to get behind Peter Aldous' retentions bill, which has its second reading in Parliament later this month.
The Tory MP's private members bill proposes that cash retentions are held in trust.
His bill has the backing of 120 MPs, including the shadow chancellor John McDonnell, Liberal Democrats' leader Vince Cable and defence secretary Gavin Williamson.