160 people set to lose their jobs after Vaughan Engineering Ltd prepares to call in administrators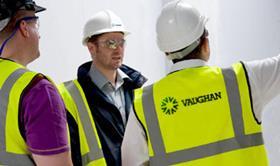 An M&E contractor has said it is facing collapse throwing 160 people out of work because it is owed £600,000 by Carillion.
Vaughan Engineering Ltd is set to appoint administrators next week after the firm said it would be felled by Carillion's implosion 50 years after its Northern Ireland parent first set up an office on the British mainland.
The firm began trading at Broxburn on the outskirts of Edinburgh back in 1968, later expanding into England with offices at Warrington and Newcastle upon Tyne.
But it said it would be forced to close its doors in the next few days after being owed £600,000 by Carillion – around half of which was for its work on a school in Runcorn on Merseyside which it completed last December and which has been handed over to the Education and Skills Authority.
It was also working on the redevelopment of the Vaux brewery site in Sunderland which is now being retendered and had been due to carry out another £1.1m worth of work for Carillion in the first quarter of this year.
But finance director Gavin Vaughan, who also has the same role at parent Vaughan Engineering Services, said staff have now been told the firm is set to go under.
He added: "It is a terrible blow not just for all of the individuals and their families but also for the economy. We have three sites in England and Scotland, employing 160 people and paying more than £6 million annually in salaries and hundreds of thousands more in rates and to our many suppliers. I think sadly it is inevitable that several of those suppliers and their employees will also be seriously impacted."
And he rounded on politicians for failing to step in and help out firms caught up by Carillion's demise.
He said: "We have tried everything we can to save our business. Despite approaches to Scottish Enterprise, the Scottish government, MPs, local and national government authorities, no assistance has been forthcoming.
"Instead, we are facing situations where we are actually being asked to honour clauses in our contracts which would mean we would be responsible for several years for warrantying and maintenance of work which we carried out should any problems occur, yet we haven't even been paid for these installations. It is especially painful for all of us involved in this to know that none of it is our fault."
A number of firms, including Balfour Beatty and Galliford Try, Carillion's former partners on the loss-making, late-running Aberdeen Western Peripheral Route, have lost money as a result of the firm's collapse but Vaughan's demise would be the first significant subcontractor to go under as a result of its failure.
In its last set of accounts filed at Companies House, Vaughan Engineering Ltd posted a turnover of £38m in the year to March 2017, racking up a £2.6m pre-tax loss. But the firm said it had budgeted to make a pre-tax profit this year.
The firm's parent, set up by Albert Vaughan in 1955 in Newtonabbey in Northern Ireland and which employs around 250 people, is unaffected by its sister firm's impending administration. Another sister firm, ductwork contractor Brankin, is also unaffected.
This week it emerged that accountant PwC has earned more than £20m in the first eight weeks of the company's insolvency.