Contractor blames Green Deal and Energy Company Obligation markets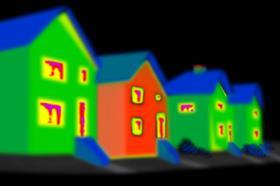 Carillion has confirmed cutting back its energy services division in response to lower than expected demand in the Green Deal and Energy Company Obligation markets cost it £43m last year, in financial results for the year to 31 December 2013 posted today.
The one-off restructuring charge contributed to a 33% drop in pre-tax profit to £110.6m, down from £164.8m the previous year.
The £43m restructuring charge is slightly larger than previously indicated.
In October Carillion said the restructuring charge would be around £40m.
Carillion cut up to 1,000 jobs from its energy services business during the second half of last year due to slow take-up in the Green Deal and Energy Company Obligation markets.
Carillion's cuts prompted an unsympathetic response from energy minister Greg Barker, who told Building in January Carillion and other firms using the Green Deal "need to look at their business model".
The firm said underlying pre-tax profit – which did not take into account the energy services restructuring charge – was down 13% to £174.7m, down from £220m, and its margin was unchanged at 5.6%.
Carillion said the drop in underlying pre-tax profit reflected the downscaling of its construction business and an increase in finance costs.
The contractor said it had completed the downscaling of its construction business to "align" it to the reduced size of the market.
Carillion's construction business in the UK and Canada shrank 17% to £1.1bn, down from £1.3bn, while underlying operating profit was down 39% to £44.4m, down from £72.4m.
Group revenue overall dropped 7% to £4.1bn, down from £4.4bn the previous year.
The results came as Carillion announced contract wins worth a combined £520m.
A Carillion joint venture in the UAE has been awarded a £150m contract by client Meraas to build the second phase of a leisure and retail development in Dubai.
The firm has also been appointed preferred bidder for support services contracts for three clients – Canada Natural Resources, Royal Bank of Scotland and Arqiva – worth £370m between them.
Carillion chairman, Philip Rogerson, said: "In 2013, Carillion has continued to respond decisively to challenging market conditions, including completing the rescaling of its UK construction activities and the restructuring of its energy services business, which are now aligned in size to their respective markets, while continuing to develop and strengthen its positions in new and existing markets that offer good opportunities for growth.
"Overall, we expect market conditions to remain challenging in 2014, but with a strong order book, good revenue visibility and substantial pipeline of contract opportunities the Group is now well positioned for the future."