Financial Reporting Council begins probe into Richard Adam and Zafar Khan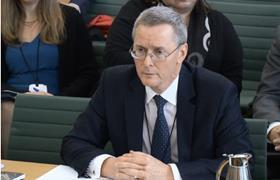 The Financial Reporting Council (FRC) has started an investigation into the conduct of two Carillion finance directors.
Richard Adam (pictured) and Zafar Khan, are coming under scrutiny for the preparation and approval of Carillion's financial statements for the years ended 31 December 2014, 2015 and 2016, and the six months ended 30 June 2017, as well as the preparation and reporting of other financial information during the period 2014-2017.
Adam held the FD position from April 2007 to December 2016. Khan, his successor was in the role between January and September 2017.
The investigation will be undertaken by the FRC's executive counsel and enforcement division.
Just two weeks after Carillion collapsed, the City watchdog announced it would be investigating Carillion's external auditor KPMG under the Audit Enforcement Procedure in regards to its audits of accounts in the lead up to the construction conglomerate going bust.
The FRC is expected to work closely with the Official Receiver, the Financial Conduct Authority, the Insolvency Service and the Pensions Regulator to ensure a joined-up approach to the investigation of all matters arising from the collapse of Carillion.
Meanwhile, the joint parliamentary committee inquiry into Carillion's failure is set to continue this week, with business and work and pensions secretaries Greg Clark and Esther McVey set to face MPs on Wednesday.