Carillion's construction boss says focus on "lean technologies and off-site construction" helped firm to beat rivals to £400m Battersea job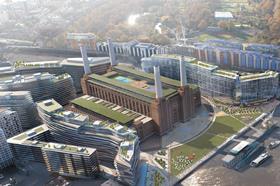 Carillion has re-emerged as a real contender for high-profile London jobs after beating rivals to the £400m first phase of the Battersea Power Station development this week.
Adam Green, managing director of Carillion construction services, hailed the contract win as a "step change" for the firm, after Carillion beat off rivals Laing O'Rourke and Brookfield for the job. Early favourite Sir Robert McAlpine and Lend Lease were dropped from the race at an earlier stage.
Battersea phase one will comprise 866 residential units in two main blocks designed by architects Ian Simpson and de Rijke Marsh Morgan.
This month Green's team flew out to Malaysia, alongside Laing O'Rourke and Brookfield, to make a final pitch to the consortium which now owns the power station.
Green said the pitch's focus on "lean technologies and off-site construction" partly developed during Carillion's recent unsuccessful bid for Google's £300m headquarters at King's Cross, was a key factor behind the win.
He said the presentation emphasised "collaborative planning involving the whole supply chain", which he said was crucial in bringing the timescale and bid-cost down.
The pitch also featured a 3D animation showing how fabricated elements such as room pods and cladding sections could be delivered in a single package.
Rob Tincknell, chief executive of Battersea Power Station Development Company, said quality and speed had been crucial in choosing the winning firm. "We want there to be less than six months between the handover of the first and last unit," he said.
He added: "Carillion was very impressive in the way they dealt with the timeframes and their thoughts on pre-fabrication."
He said Sir Robert McAlpine had done a "fantastic" job with pre-construction work, adding that the firm might be better suited to the £700m second phase of the development, which is being delivered through construction management as opposed to the design-and-build method used on phase one.
Tincknell said phase two would be divided into two stages: a £100m external repair of the power station, taking 18 months and due to be contracted by the end of this year; and a £600m mixed-use interior due to be contracted during those 18 months. Green said Carillion intended to bid for phase two.
In 2009/10 Carillion made a strategic decision to downsize its UK construction business by around a third by 2012, with the business reporting revenue of £1.28bn last year.
Kevin Cammack, analyst at Cenkos, said the Battersea win "puts Carillion on the map" for similar large construction jobs in the capital. "I'm slightly surprised they even bid for it," he said.
"In a single stroke this says to the outside world that they're back."