Business recovery plan warned that it would lose over £300m on nine problem jobs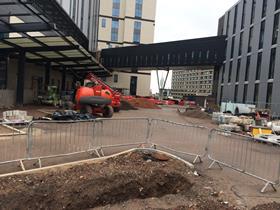 Carillion was banking on recovering more than £250m in claims on a handful of schemes in the UK and overseas, new documents reveal.
But the eye-watering figure would still not have covered an additional £315m it was expecting to rack up in losses on nine schemes, which included its two PFI hospital jobs in the UK as well as the Msheireb Downtown Doha project, by the end of 2020.
The figures are included in its group business recovery plan published last month and released as part of a parliamentary probe into the firm's collapse.
The plan was eventually rejected by the government who refused to approve a £160m bailout proposed by the firm.
In the 100 page document, Carillion details nine schemes where it was planning to recover a total of £262m in claims over the next three years including £33m on the Midland Metropolitan Hospital, £97m on the Qatar job, £43m on the Royal Liverpool Hospital project (pictured) and £40m on the Aberdeen bypass.
Between them these four jobs were expected to blow a further £236m hole in its accounts by the end of 2020.
The other problem jobs it listed were its work on the Battersea Power Station redevelopment, where it completed work on the Circus West residential scheme just before Christmas, with the firm here budgeting for losses of £29m, a £23m loss on its PF2 schools work, a £22m loss on its Ontario Roads scheme in Canada and the Aldara Hospital scheme in Saudi Arabia where it was expecting to lose £21m.
Carillion also revealed that its overall provision – which it said at the end of last September stood at just over £1bn – had gone up by £60m in the last three months of 2017 to £1.1bn.
This included a £15m hit on the Royal Liverpool scheme and a £15m provision on the Aberdeen scheme. It also said it was having to set aside £6m in additional legal costs on two schemes in Canada – Union railway station in Ontario, where work involved rebuilding a 100 year old station and adding a shopping concourse, and a transformer station in Toronto which was built underground and beneath a historic railway roundhouse.
Last week, interim chief executive Keith Cochrane told a joint committee of MPs that he had revised the original provision up to the £845m figure which was published in July last year and led to the departure of chief executive Richard Howson.