Developer searches for joint venture funding partner for 1.4 million sq ft scheme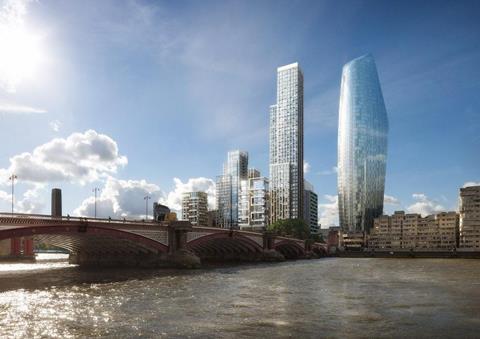 Developer the Carlyle Group has begun searching for a joint venture funding partner to kickstart a planned tower cluster scheme on London's South Bank.
The 1.4 million sq ft residential-led scheme will comprise nine buildings of between five and 48 storeys in height and received planning permission in March.
The scheme incorporates 489 homes and will sit adjacent to Blackfriars Bridge and either side of the London Thameslink railway line.
The scheme, designed by PLP Architecture, involves the demolition of two existing buildings in Southwark, the late seventies Samson House and late eighties Ludgate House, current home of UBM, the publisher of Building.
Carlyle has appointed property agent Knight Frank to identify and secure a joint venture funding partner.
Carlyle intends to begin construction next year.
Mark Harris, managing director at The Carlyle Group, said: "Bankside Quarter will transform the area of the South Bank around Blackfriars over the coming years, and offers a once in a lifetime opportunity to regenerate a prime, central riverside site of significant scale in London.
"The development will be delivered in phases over a number of years, replacing the tired and inefficient existing office buildings with a vibrant, thriving mixed-use community and 489 spectacular new homes.
"Given its central riverside location, opposite the City, we believe demand for office, residential and retail space in this area will remain, strong, and that Bankside Quarter has the potential to generate substantial value for investors as the project is delivered."