Insulation manufacturer says it is investigating programme's retardant allegations "as a matter of urgency"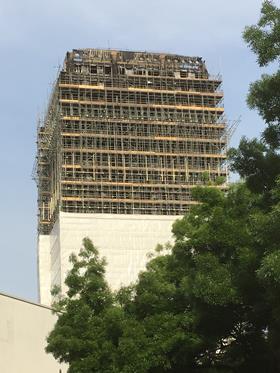 The manufacturer of insulation material used on Grenfell Tower has denied allegations made in a recent BBC TV investigation that while it used a fire retardant in test conditions the eventual product sold to the public did not contain it.
Panorama claimed in its investigation that Celotex, owned by French multinational St Gobain, used extra fire retardant in the product that qualified for the safety certificate, but said a more flammable version was then sold for public use.
In a statement posted on its website Celotex said it was "unaware" of the allegation that the tested sample differed from the one sold to the public and had not seen anything to support the programme's claims. The firm said it was "investigating this allegation via all avenues as a matter of urgency".
The manufacturer questioned Panorama's claims that it had used a special formulation for a recent BS-8414 system test. "It is very hard to understand the Panorama allegation alongside those tests," it said.
The Panorama programme came days after publication of the Hackitt report which backed away from calling for combustible cladding to be banned from high-rise residential buildings in the wake of Grenfell, although both the author of the report, Dame Judith Hackitt, and the Prime Minister have said they would back a ban.
The government has said it is "coming round" to a ban and said it plans to launch a consultation in the near future. But ministers have given no indication of when it will start or how long it is likely to take.
Celotex's statement on the recent Panorama programme
"As you may have seen, the BBC's Panorama programme from 21 May 2018 focused on the refurbishment of Grenfell Tower and raised certain allegations in connection with the Celotex business. We take these allegations extremely seriously.
It is important to note that, as was mentioned in the programme, the Grenfell Tower Inquiry and the Police investigation are on-going. We have been, and will continue to fully co-operate with these official processes. It is absolutely right that we continue to do this; all of the issues raised in the programme, and many more, will be investigated in detail. The Inquiry has stated its aim of establishing the facts relating to the Grenfell Tower fire, an exercise which involves the consideration of many different parties and complex inter-related issues.
During the programme a new allegation was made that Celotex had added fire retardant to the formula of a product sample which was used for a safety certificate and that a different product to this was actually sold. Prior to Panorama raising this, we were unaware of this allegation and had not identified anything which would support it. Celotex is investigating this allegation via all avenues as a matter of urgency.
Celotex has not used any special formulation for the recent successful BS-8414 system test in May 2018 or Class 0 fire testing. It is very hard to understand the Panorama allegation alongside those tests.
The current management of Celotex are absolutely determined to do the right thing. That means cooperating fully with the Inquiry and other official investigations, and sharing with them all relevant material. We will continue to provide updates as appropriate.
As the first anniversary of the Grenfell Tower fire approaches, we continue to express our deepest sympathies to the families of all those who lost their lives in the fire and to everyone who was and remains affected by it."