Prime Minister says consultation is a legal obligation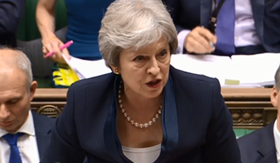 Prime minister Theresa May has signalled her support for a ban on combustible cladding materials.
Responding to questions in the House of Commons, May said she, like housing secretary James Brokenshire earlier this week, favoured outlawing systems like the one blamed for the Grenfell tragedy.
May said: "I think the deeply moving testimonies that we have already heard and will continue to hear from survivors and the bereaved this week leave absolutely no doubt that we must learn everything we can about what has happened and we must take the strongest possible action to stop such a tragedy from ever happening again.
"Dame Judith Hackitt's recommendations did not include the banning of inflammable cladding. We are minded to go further by banning combustible materials in cladding on high-rise buildings. We are meeting our legal duty to consult on these proposals and we will not delay any necessary action."
On Monday, housing secretary James Brokenshire told MPs government was prepared to support a ban on combustible cladding in high-rise buildings.
Brokenshire said government had been moved by arguments for a ban on cladding systems like the one that caused the Grenfell tragedy.
He added: "Having listened carefully to the arguments for banning combustible materials in cladding systems on high-rise residential buildings the government is minded to agree and will consult accordingly."
Brokenshire announced a government consultation on a ban for combustible cladding systems following the release of Dame Judith Hackitt's final report on building safety last Thursday.
Despite not recommending it, Hackitt said she would support the government if it chose to ban the use of combustible cladding on high rises, following the release of her report.