Sir Robert McAlpine in pole position for project as landmark scheme approved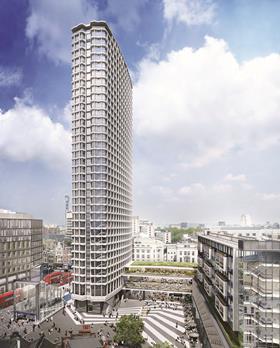 A £350m transformation of London's famous Centre Point tower was last night given the go-ahead by planners, despite local opposition.
Camden council granted the Centre Point partnership between developers Almacantar and Frogmore permission for a major overhaul of the 1960's Centre Point complex under a scheme designed by Rick Mather Architects and Conran & Partners.
As Building reported last year, Sir Robert McAlpine is firm favourite to build out the scheme after it was brought in to do pre-development work.
Chief executive of Almacantar, Mike Hussey, said: "With Crossrail's arrival, there is growing impetus behind the drive to revitalise this part of London and Centre Point has to be at the forefront of that.
"We intend to transform the way Londoners view and interact with Centre Point, while always staying true to its heritage. Our ambition is to ensure the scheme is re-established as a landmark destination that Londoners can be proud of."
Paul White, Frogmore chairman and chief executive, added: "This is a victory for intelligent and sustainable thinking. The area has been blighted for too many years and London, looking forward to Crossrail and other huge investment, needs its arrival experience to be of the highest quality."
However, architectural conservation group the 20th Century Society, St Giles Church, the Bloomsbury Conservation Area Advisory Committee and customers at adjacent pub the Intrepid Fox, all argued at Thursday night's meeting for the scheme to be thrown out.
Under the project, the pub - famous among rock music fans - would be demolished to make way for social housing.
The 20th Century Society argued the pub is architecturally important and that the new design is a "crude extension" to Centre Point that would "cause substantial harm to a Grade II-listed complex".
Almacantar and Frogmore said they were working closely with Transport for London and local authorities to ensure a better public realm and better connections to Oxford street, Soho and Covent Garden.
The two said plans for this phase of the redevelopment will include:
82 residential apartments, ranging from one bed apartments to four-bed duplexes
New shops and restaurants created by removing the mezzanine floors and recent partitions
A new building delivering 13 affordable housing units on-site
New shop frontages, and improvements to the brise-soleil concrete lattice work at first floor to make the building feel more transparent and welcoming
Improvements to the building, including cleaning and repairing the iconic façade and making the building significantly more energy efficient
A commitment from Camden and Transport for London to deliver a "world class square" and transport hub in the heart of the West End.