China Building Technique Group looking for contractor to deliver Croydon tower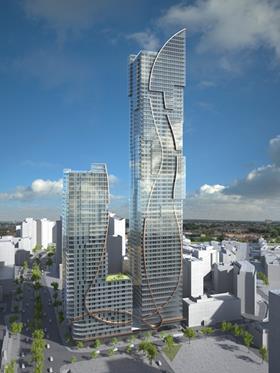 Chinese contractor China Building Technique Group is looking for a contractor partner to deliver the £500m One Landsdowne Road tower in Croydon.
The Chinese firm awarded the main contractor role on the project confirmed to Building that it planned to partner with a UK tier one contractor on the project, which is scheduled to begin mid-2016.
The project is the latest of a growing number of UK schemes set to be delivered by Chinese contractors following the UK government's courting of Chinese money and expertise.
The project (pictured), promoted by local developer Guildhouse Rosepride, is set to become England's tallest residential building, providing over 65,000m2 of space.
Located opposite the planned Westfield shopping mall, the tower is likely to take between four and five years to build, subject to planning approval.
[Chinese firms] could drive forward and challenge our approach to construction

Peter Rogers, Lipton Rogers
Guildhouse chief executive David Hudson said China Building Technique Group had already contributed a lot to the building through design and engineering "making it more efficient".
Last week it was confirmed that Chinese contractor Citic Construction will be the construction manager for all three phases of ABP's £1.7bn Royal Albert Docks development. The Chinese contractor is also in discussions with UK contractors to help it deliver at least phase one of the development, which is expected to start on site at the beginning of next year. It was one of a number of announcements timed to coincide with the visit of Chinese premier Xi Jingping, including Beijing Construction and Engineering Group being selected by Scarborough Group International as preferred contractor on its £700m Middlewood Locks development in Salford, and Sino Forte's £100m investment in London Resort Holdings' London Paramount theme park in north Kent.
Peter Rogers, joint founder of 122 Bishopsgate developer Lipton Rogers, said he had "some concerns" about influx of Chinese contractors winning work in the UK. He said he believes they may "struggle" with the big cultural differences of working in the UK.
However, he added that joint ventures with UK firms could "drive forward and challenge our rather conservative approach to construction [… ] and anything that challenges convention must be a good thing".
Specialist Engineering Contractors' Group chief executive Rudi Klein said Chinese contractors could become a "potent force" in the UK construction industry if they could demonstrate that they could cut costs and work well with UK supply chains.
Iain Parker, director at Alinea, said that while he considered China's investment in the UK a good thing, he was concerned the design quality of projects in the UK invested in by Chinese firms might be diminished due to the different treatment of the built environment by the Chinese.
Other deals announced last week included the launch of the £130m "China Cluster" scheme as part of an £800m expansion programme at Manchester Airport. Manchester & Cheshire Construction also allied with Chinese developer ChongqingJinstar Real Estate Development Company to buy residential sites in Greater Manchester with a target of building 55,000 homes by 2027.
Building revealed last week that Chinese property giant Evergrande made an agreement with the BRE to advise it on a £200m green retrofit programme across its property portfolio.