Jingye Group says it will plough £1bn into the collapsed UK steelmaker
Chinese industrial group Jingye said it will invest £1bn in British Steel over the next 10 years after buying the collapsed steelmaker, which was hit by rising costs and falling steel prices and went bust in May this year, putting around 24,000 jobs at risk.
Jingye's £50m move to rescue British Steel will come as a relief to Network Rail, which gets 95% of its rails from British Steel's Scunthorpe plant, and the country's modular housing companies which use frame made from its steel.
A combination of falling steel prices caused by cheap imports, high production costs, a weakened sterling and uncertainty due to Brexit hastened its demise.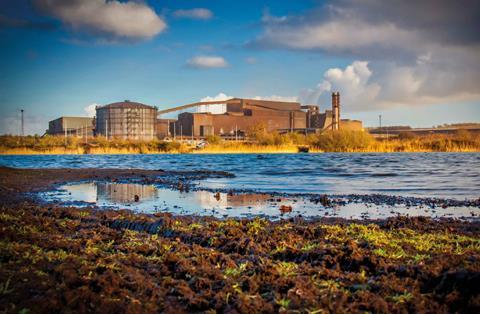 The group had carried on operating while the Official Receiver sought a buyer for the business and its assets, including steel mills in Scunthorpe and Teesside in the north east of England, putting a 10 November deadline on striking a rescue.
After frantic talks and last-minute negotiations the Official Receiver today announced that subject to regulatory approval Jingye had bought British Steel Limited, including the steelworks at Scunthorpe (pictured), as well as UK mills and shares of FN Steel BV, British Steel France Rail SAS, and TSP Engineering, which supplies the construction sector.
A spokesperson for the British Constructional Steelwork Association said the news was a relief: "While there have been no issues with steel supply in the interim period, the sale will ensure continuity of supply to the UK's structural steelwork sector."
Jingye was founded 30 years ago and has steelmaking operations in its own market, although it does not make long products – effectively rail tracks and steel girders used in construction – and sees these as growth markets.
The BBC reported Jingye group chairman Li Ganpo saying the company would spend £1.2bn over the next decade in upgrading plant and machinery, "improving the company's environmental performance…and boosting energy efficiency to place the operations on a more competitive and sustainable footing".
A statement from the Official Receiver said: "Completion of the contract is conditional on a number of matters, including gaining the necessary regulatory approvals. The parties are working together to conclude a sale as soon as reasonably practicable."
Jingye's late hour deal will relieve both British Steel's 4,000 workforce and those 20,000 or so people whose jobs indirectly rely on the continued survival of the group.
Despite attracting potential rescuers, including Ataer, a subsidiary of Turkey's state military retirement scheme Oyak, no deals for the British Steel materialised over the summer, although some parts of the business were cherry-picked.
In August French engineering group Systra bought multi-disciplinary consultant TSP Projects from the remains of British Steel.
York-based TSP has 400 employees across offices in York, Manchester, Birmingham and Reading and operates across the rail, defence and energy sectors.
Timeline: The life and times of British Steel
1967: The Iron and Steel Act nationalises steel production and the British Steel Corporation (BSC) is formed, with 270,000 employees
1973: The government announces plans to concentrate the steel industry in Scunthorpe, Sheffield, south Wales, Teesside and Scotland
1980: BSC closes the Consett, Corby and Shotton steelworks
1988: BSC is privatised and renamed British Steel
1992: British Steel announces the closure of its Ravenscraig steel plant, ending steelmaking in Scotland
1999: British Steel merges with Dutch firm Koninklijke Hoogovens to form Corus
2002: Corus shuts down Ebbw Vale steel mill
2007: Tata Steel buys Corus
2016: Greybull Capital buys Tata Steel's Long Products Europe business, with the new company called British Steel
2018: British Steel announces the biggest single investment in its manufacturing operations in a decade, with £50m to upgrade the Scunthorpe Rod Mill
2019: In April, business secretary Greg Clark confirms a £120m government loan to enable British Steel to pay an EU carbon emissions bill. Just weeks later, the company goes into administration