CIty Hall gives green light to £1.7bn Asian business park scheme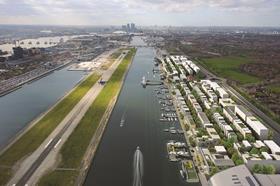 The £1.7bn Royal Albert Dock development in East London has been given the green light by City Hall.
The 4.7 million sq ft development by Chinese firm ABP was granted planning permission by Newham Council last year subject to a response from the GLA.
Chinese developer ABP China originally agreed a deal with the Greater London Authority (GLA) in 2013 to transform the largely derelict area into a business district, focused on attracting Asian businesses to the capital.
The firm successfully successfully concluded negotiations with Newham, the GLA and Transport for London to obtain planning for the site, which will see the company make a contribution to upgrading the Docklands Light Railway in the area.
ABP's chief operating officer and executive director, John Miu, said: "Obviously we are delighted by how the whole planning process has progressed and we are looking forward to getting underway and completing our first phase in just 3 years.
"There is tremendous interest from across Asia from companies wanting to locate in the Royal Albert Dock business district development and we look forward to making further exciting announcements in the months ahead."
The regeneration scheme has now been sent to communities secretary Eric Pickles for formal approval from central government. ABP is now expected to begin work on the 35 acre site later this year with the first phase expected to be completed in 2018.