Share technical know-how with suppliers who don't have R&D resource, Andy Mitchell says
Construction Leadership Council chairman Andy Mitchell has told the industry's biggest firms to help smaller firms adopt new working practices to speed up the post-pandemic recovery.
The CLC, which has just racked up its 50th online meeting of the crisis, has published its so-called Roadmap to Recovery, a three-stage guide plotting the industry's route out of the lockdown.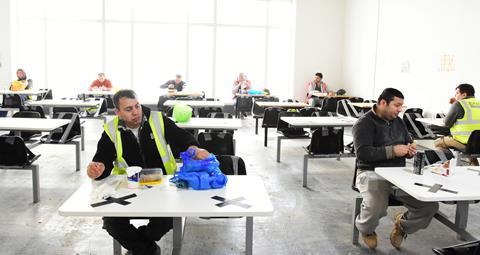 The plan outlines how firms can use new technology to modernise and adapt to social distancing restrictions.
Productivity remains one of the biggest issues for sites with the experts warning that jobs will never operate at 100% capacity while social distancing protocols remain in place.
Speaking at a Building webinar on the CLC's plans, Mitchell said: "[One of the challenges is] how the bigger firms help the smaller firms embrace technology when fundamentally people haven't got research departments and they haven't got people sat there working away on things.
"There's a lot to do and a lot of that is about the industry helping itself, because the big players won't get any work if the small players can't keep going."
And Fergus Harradence, deputy director of construction at the department for business, energy and industrial strategy, said major firms had to show leadership to help smaller firms get through the recovery phase.
He added: "It's a conscious choice to do things differently and to try and change things but genuinely I think we are on the cusp of being able to do that. You need a few more large organisations to consciously decide that they will act more collaboratively."
BuildUK chief executive Suzannah Nichol said firms had to work together more for any recovery to stand a chance of working. "If one part of the supply chain stops working, then it all falls apart," she said.
Asked about what would happen in the event of a second wave of covid-19, Mitchell said construction now has experience of operating during a lockdown.
He added: "Comparing other industries, if you take the pubs and restaurants, which haven't had a chance to get back up and running in a 2m distance world, they haven't had a chance to learn how to keep going. We have.
"I think we would do a lot better than we did first time round but of course some of the agonies which people are struggling with will still be there and I think it's the cumulative effect on the commerce and cash side of things which I worry about more than I do the practicalities of physically starting again."
Yesterday, Atkins became the latest firm in the industry to announce it was cutting jobs because of the slowdown brought on by the covid-19 pandemic. Wates, M&E contractor T Clarke and brickmakers Ibstock and Forterra have already said they are axing close to 1,000 jobs between them.
BEIS working on no-deal Brexit guidance for industry
Covid 19 may have dominated discussions about construction this year but Brexit looks set to make a comeback in the coming months.
Following reports that trade talks in Brussels have hit the buffers, Fergus Harradence, deputy director of construction at the department for business, energy and industrial strategy, said BEIS will be working up guidance for construction firms "in the next couple of weeks".
He admitted: "We recognise that over the next six months once again we're going to have to step up our preparations for no deal."
He added: "We will certainly be issuing some advice and guidance and engaging with the industry on what it is they need to do to prepare for any eventuality over the next month or so."
On-demand: Building's coronavirus recovery webinar
Listen to the online discussion about the CLC's Roadmap to Recovery in more detail with the Andy Mitchell, CLC co-chair, Fergus Harradence, deputy director for construction at the Department for Business, Energy and Industrial Strategy, and Suzannah Nichol, Build UK chief executive. Register for free.