Councils say they are looking at all options to get project finished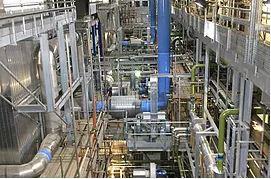 Interserve has been warned it faces being booted off another energy-from-waste scheme if it doesn't complete the project soon.
The firm is racing to hand over the project in Derby with the client threatening to throw it off the job.
The scheme was supposed to have fully completed two years ago but has been hit by a string of problems which last year saw it attract more than 250 complaints about noise and smell by angry locals.
Joint clients Derbyshire county council and Derby city council said they have still not paid a £50m sum to the Interserve joint venture carrying out the work, Resource Recovery Solutions (RRS), because of non-completion.
In a statement, the pair said: "Cabinet members at Derbyshire county council and Derby city council are putting added pressure on their contractors and considering all options to get a waste treatment centre in Sinfin up and running."
The deputy leader of Derbyshire council Simon Spencer added: "We're looking at a range of alternative options to get this waste treatment centre over the finish line – including, as a last resort, ending our current long-term contract with RRS."
RRS, which also includes waste management specialist Renewi, has also been managing nine of the councils' household waste recycling centres and two waste transfer stations since 2009.
Derby council leader Chris Poulter said: "We have a duty to protect the interests of council tax-payers and we're in weekly talks with our contractors and the banks which loaned them the money for the project. We're pushing them hard to resolve outstanding issues at the plant and pass certified performance tests as soon as possible."
The incinerator (pictured) was due to be finished in March 2017 and although built has been in a commissioning phase since January last year.
In its annual results published at the end of last month, the firm admitted there was a possibility the firm could be thrown off the job but added: "Given the stage of completion of the project the Directors do not believe this would be a desirable outcome for all parties."
The scheme accounted for the bulk of the £12.6m Interserve lost last year on its botched energy-from-waste (EfW) schemes which brought the total it has blown on the initiative to close to £230m.
But in its annual results last month, Interserve said it had received £35m in insurance claims on its EfW deals last year and the firm said it expects to receive £30m in claims on the Derby scheme.
A spokesperson for Interserve said: "We continue to work with the councils and all other project stakeholders to bring the Derby facility into full service."
Yesterday Building revealed that the client on an energy-from-waste scheme in Glasgow has told Interserve it owes "significantly" more money than previously thought. Interserve said the claim by Viridor, which booted the firm off the job more than two years ago, has "no technical merit".
On Friday the firm will find out whether shareholders back its proposed rescue plan.