Profit woe takes edge off 50% hike in turnover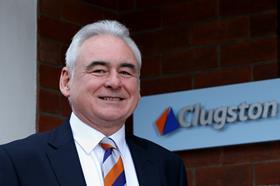 Clugston Construction has begun a rejig of the business after racking up a pre-tax loss of more than £500,000 in the year to January.
The Scunthorpe-based firm saw a profit of just over £1m last time sink into the red with the group turning in a pre-tax loss of £528,000.
The firm is now concentrating on three areas – construction, facilities management and energy waste and renewables.
It said Steve Radcliffe, managing director of its construction business, will concentrate on developing the energy-from-waste business which includes schemes at Kemsley in Kent, Deeside in north Wales and Avonmouth near Bristol.
Construction is the biggest part of the group which also has a haulage arm and property business.
It said business in construction last year was "was without doubt the most challenging in years" with the firm blaming client jitters and economic uncertainty for the problems. It warned the current year would remain "challenging".
Chief executive Bob Vickers (pictured) added: "I am sure that the restructuring we have undertaken, particularly within the construction area of our business, will create the focus and drive to enable us to continue to deliver successful projects and satisfy our customers and partners."
Turnover in the year to January 2018 was up 48% to £175m.