Group issues Mipim call for help on long-term regeneration surrounding £100m head office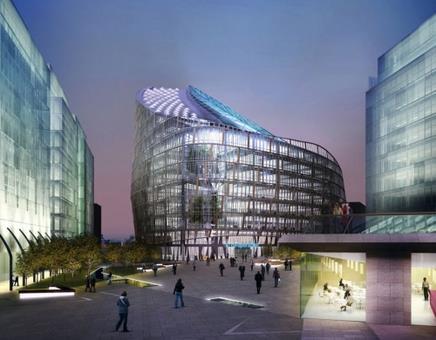 The Co-op is looking for developers to help it to deliver the long-term regeneration around its new £100m headquarters building in Manchester, it was announced today at the Mipim property fair in Cannes.
The Co-op made the call as it announced the overall £800m regeneration scheme will be branded Noma.
The headquarters building, which is currently being built by contractor Bam, is just the first part of a wider regeneration plan for the miller street site in Manchester city centre.
Martyn Hulme, managing director at Co-operative Estates, said: "Currently the sole developer on the project, we will be using the Mipim stage to discuss the Noma vision with other potential partners eager to share in our vision and values."
The Co-op said it was looking to provide a total of four million square feet of office, retail, residential and leisure space across the 20 acre regeneration site over 10-15 years.
The 16-storey 3D-Reid-designed head office building, on which it aims to use up to 300 apprentices, is due to be complete by September next year.
Hulme added: "The Co-operative Group has the strength and capability to deliver Noma and confirm Manchester's position as the UK's original modern city, and confirm its position in the European premier league of cities.
"Noma will be a city district like no other. It has been built on a socially responsible vision that will encompass ethical business practice in the way in which it is built and operated. "