Housing secretary James Brokenshire confirmed details to MPs yesterday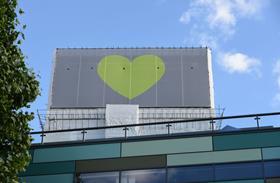 The government's consultation on banning the use of combustible cladding is set to get under way next week.
Speaking in the House of Commons yesterday afternoon, housing secretary James Brokenshire confirmed details of the consultation would be published next week.
In a statement on the government's response to the Grenfell Tower fire one year on, Brokenshire said: "Having listened carefully to concerns, the government intends to ban the use of combustible materials on the external walls of high-rise residential buildings, subject to consultation.
"We will publish the consultation next week. It is essential that people living in buildings like Grenfell Tower are not only safe but they feel the state understands their lives and works for them."
There has been a public call for a ban on combustible cladding, despite the fact Dame Judith Hackitt's review of building safety did not recommend one.
While not making the recommendation herself Hackitt did say she would back a government decision to ban the controversial products.
Both Brokenshire and prime minister Theresa May have since said government is in favour of a ban.
While reiterating government would foot the bill for the removal of ACM cladding on buildings over 18m owned by social landlords, Brokenshire also made special mention of a number of firms who have taken on remediation costs in the private sector.
He said: "I recently met leaseholders and put their concerns to representatives from industry at a number of roundtables.
"Some in the sector, such as Barratt Developments, Legal & General and Taylor Wimpey, are doing the right thing and taking responsibility.
"I urge all others to follow. The private sector must step up and I am not ruling anything out if they do not."
Brokenshire also said his department would be publishing a social housing green paper by recess.