Ben Derbyshire says government consultation simply delays a ban which should happen now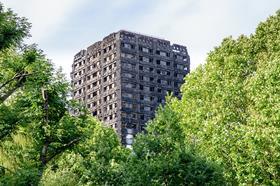 The ban on combustible materials to clad tall buildings needs to happen immediately, RIBA president Ben Derbyshire has insisted.
The changes are needed "now, not tomorrow", he said.
His remarks come after the government announcement yesterday that it will hold a consultation on whether or not to ban flammable cladding.
Derbyshire said: "The RIBA would very much welcome this amendment to the regulations. However we believe that changes are needed now, not tomorrow.
"The industry and the public can wait no longer for clarity and assurance. The government must take action today."
Three hours after Dame Judith Hackitt's report was published yesterday with no call for a ban, new housing secretary James Brokenshire stood up in Parliament to announce the government would after all consult on a ban.
A ban has one of the RIBA's key demands all the way through, along with additional fire escapes and sprinklers.
Yesterday Jane Duncan, chair of the RIBA's Expert Advisory Group on Fire Safety and RIBA president at the time of the Grenfell fire, said it was a missed opportunity.
"This was supposed to be a Review of Building Regulations and Fire Safety following the tragedy at Grenfell Tower," she said.
"It's a thorough report on the current state of the regulatory system and construction industry, but it offers no changes whatsoever to the actual regulations or baseline guidance.
"Focusing on just a small number of very high buildings is a major missed opportunity. By failing to ban the use of combustible materials and 'desktop' studies, or require use of sprinklers, the report's recommendations will not deliver the immediate change that is needed to reassure and safeguard the public.
"We will be continuing to work with government to ensure that our recommendations are re-considered."
And Derbyshire said: "We are extremely concerned that it has failed to act on the urgent need to immediately protect life safety through a more detailed programme of simplified and improved regulations, standards and guidance."