Plan to demolish Glasgow's Red Road flats live during Games opening ceremony has been dropped after the idea sparked outrage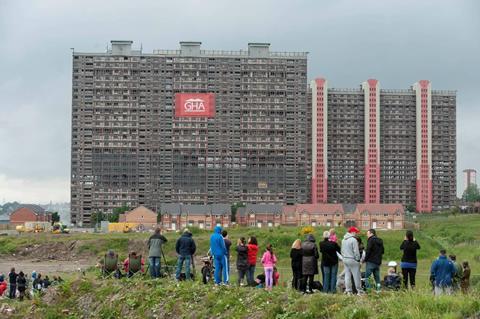 The organisers of the Commonwealth Games have scrapped their plan to blow up Glasgow's Red Road flats live during the opening ceremony.
They performed a U-turn after the proposal sparked outrage among architects, politicians and commentators.
More than 17,000 people signed a petition objecting to the idea.
Five of the six remaining towers, designed in the 1960s by Sam Bunton, were to be blown up simultaneously and broadcast live during the ceremony on 23 July.
It was intended to be a "positive act of commemoration" but was condemned as the "hallmark of barbarism".
Bunton's son, Len, who worked as a quantity surveyor on his father's project in the late 1960s, said it was the "worst piece of political judgment imaginable".
The U-turn was welcomed by Malcolm Fraser who told the Guardian: "What might the poor of the Commonwealth have thought of their rich hosts glorying in demolishing 11,000 social homes?"
In a statement, Games chief executive David Grevemberg said: "We made it clear from the outset the absolute priority was safety and that this event would only happen during the opening ceremony if it was safe to do so.
"Over the past few days it has become clear that opinions have been expressed which change the safety and security context.
"Glasgow 2014, Games partners and key stakeholders, including Police Scotland and Glasgow Housing Association, are not prepared to allow what was proposed to be a positive act of commemoration to create risk for all concerned, including the communities of north east Glasgow."
Other parts of the development have already been demolished (pictured below).