Deloitte crane survey said Leeds saw a record number of new housing schemes start on site
Construction activity across four major UK cities increased by more than a third last year as the industry roared back to life following the first covid-19 lockdown.
Deloitte's regional crane survey found 72 new projects started in Belfast, Birmingham, Leeds and Manchester in 2021, up from 53 in 2020.
Residential projects drove the upsurge, with Leeds seeing a 210% increase in the number of housing units starting construction compared to 2020. In total, 10 new residential schemes started in the city last year, the highest number since the Leeds survey started in 2006.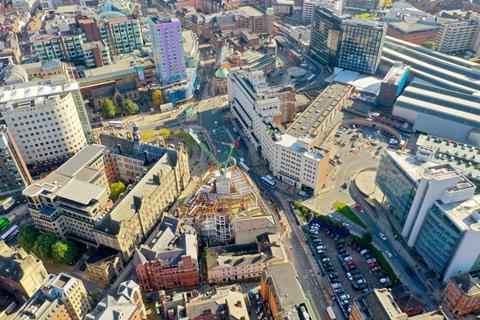 Manchester saw over 5,500 new homes built in 2021, up from just under 5,000 the year before. A further 10,700 homes remain under construction in the city across 40 development sites.
Birmingham saw 14 new residential schemes start in 2021, up from five in the previous year. Although the number of new homes completed dipped from around 2,000 in 2020 to just over 1,500 last year, it remained well above the city's 10-year average of 653 new homes per year.
Deloitte real estate partner John Cooper said "Similar to residential growth trends in Manchester since 2014, Birmingham and Leeds have now also gained significant traction in new build to rent projects over successive survey years.
"This reflects favourable economic conditions and significant investment in placemaking."
No new residential schemes started in Belfast last year, although office developments were at their highest level since Deloitte first started surveying the city in 2017 with five new schemes starting in 2021.
But this was not repeated elsewhere, with the number of office schemes under construction across all four cities dipping to 3.48m sq ft last year from 3.61m sq ft in 2020.
And the number of completions fell significantly to less than 1.6m sq ft last year from 2.5m sq ft in the previous year. Deloitte said the slowdown was likely driven by the high volumes of development completed in 2020 and completion dates for schemes in 2021 lagging slightly due to the pandemic.
Meanwhile, education and student accommodation under construction saw a 23% increase in 2021 across the four cities, with record floorspace completed in both Manchester and Leeds.
Deloitte managing partner for regional markets Daniel Barlow said: "It's encouraging to see overall construction activity remaining resilient across regional cities, despite a number of challenges.
He added: "Regional cities are gearing up for a good pipeline of development for 2022. There is expected to be an uplift in construction across all sectors, as the levelling up agenda progresses, with further investment in centres."
Last week's IHS Markit/CIPS survey found growing commercial work helped construction improve output last month despite the impact of the Omicron variant of covid-19.
But it was at odds with a Glenigan survey published this week, which said that the values of smaller projects valued at £100m or less started falling towards the end of last year.
The report found that January this year saw the lowest value of project starts since the start of the first covid-19 lockdown in 2020 and was the fourth consecutive month of declining values.