Industry asked for feedback on proposals to repurpose the Queen Elizabeth II Conference Centre as part of parliament's £12bn restoration
Construction firms are being asked for their views on plans for a major rejig of the Queen Elizabeth II Conference Centre (QEII) as part of the £12bn restoration of the House of Parliament.
The plans could see much of the interior of the conference centre stripped out so it can be converted into a temporary home for the House of Lords during the restoration of the parliamentary estate.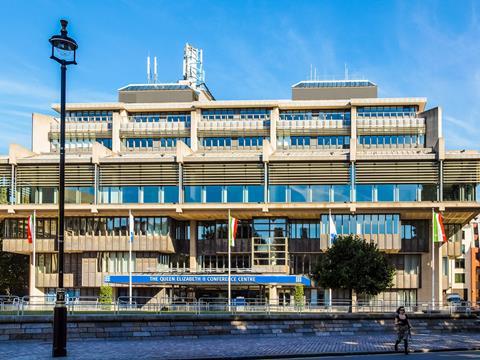 A market consultation on the proposals has been launched by the delivery authority set up to oversee the wider scheme, which is the biggest heritage restoration ever undertaken in the UK.
The authority has drawn up options and an initial procurement strategy for the transformation of the building and said it now wishes to gather the views of firms interested in the project.
The work is expected to include structural alterations to the building and stripping out of some elements, demolition and construction work to the roof, installation of an additional lift shaft and refurbishment of existing lifts.
The job is also set to include internal fit out for walls, floors ceilings and finishes, furniture, fixtures and equipment, and external public realm works.
Designed by Powell Moya & Partners and built by Bovis in 1986, the conference centre occupies a prominent position close to Parliament Square and directly outside the main entrance to Westminster Abbey.
The seven-storey building houses 32 individual meeting rooms including the 700-capacity Churchill auditorium, the 400-capacity Mountbatten Room and three rooms on the third floor which can be combined to form a space accommodating 1,300 people.
Firms have until 23 September to respond to the consultation with a contract notice for the job expected to be published on 1 April 2022.
In June, a public consultation on the wider Houses of Parliament Restoration and Renewal Programme was launched to get feedback on how the project should be carried out.
A contract notice for the wider project is set to be published next June ahead of a detailed and costed plan being considered by Parliament in 2023.