Construction one of three areas initially covered in £500m government skills investment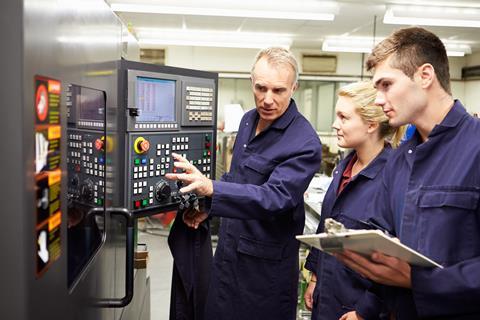 Education secretary Justine Greening has announced that its technical 'T-level' qualification programme, set to be taught from 2020, is to include a qualification in construction from its initial roll-out phase.
Along with T-levels in digital and education and childcare, the construction industry is set to benefit first from government's technical education overhaul, with a full programme of T-levels in other areas such as engineering and manufacturing to be introducted by 2022.
The £500m annual investment into technical training for 16-19-year-olds was announced in this year's March Budget.
Content on the courses has been developed by industry professionals from organisations such as Skanska and Morgan Sindall.
T-level programmes are set to include a "substantial, high quality work placement" in conjunction with class-based learning.
Greening said: "As we prepare to leave the EU, it is more important than ever that we create an outstanding further education and skills system, giving all young people the opportunity to fulfil their potential and deliver a better future for our country.
"As part of making sure that the technical education ladder reaches every bit as high as the academic one, I want to see T-levels that are as rigorous and respected as A levels."
Edward Shaw, construction industry manager at City & Guilds, welcomed the provision of more clarity around the reforms, citing the construction sector's ever-growing pressures to develop home-grown talent.
"The construction sector is facing enormous pressure, especially in the context of Brexit, and it is vital that we offer young people clear progression pathways so that they are encouraged to choose a career in this area.
"As the new qualifications are developed, it is crucial that policymakers engage and consult across the wider sector to ensure that the training on offer fulfils the needs of employers of all different sizes.
"We also need to build broader understanding amongst young people, their parents and their teachers as to what T-Levels entail and the range of educational opportunities available to them after the age of 16."