Latest figures show no growth in construction output in second quarter, compared to first quarter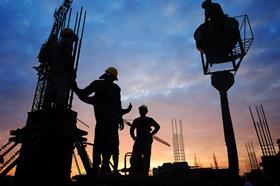 The recovery in the construction industry stalled in the second quarter, but overall output is still up 4.8% year-on-year.
The latest Office for National Statistics construction output figures there was no growth between Q1 2014 and Q2. This is an upward revision from the 0.5% fall in an earlier estimate of output issued by the ONS last month.
However, when comparing Q2 2014 with the same period a year ago, output rose 4.8%.
The figures also showed that output rose 1.2% in June, compared with the previous month, with new work up by 0.9% and repair & maintenance work up by 1.6%.
When comparing Q2 with Q1, the figures showed new housing grew 3.5%, with the level of new housing reaching its highest level since the final quarter of 2007.
Simon Rawlinson, EC Harris head of strategic research & insight, said: "This morning's construction output data shows that growth in output has ground to a halt in the second quarter.
"Considering that recent GDP data suggested that construction had contracted by 0.5% in the second quarter, the data is positive, but provides no room for complacency.
"The star-performing sector in the quarter has been industrial - with activity driven both by factories and distribution. Residential also continues, as would be expected, to grow steadily.
"The commercial sector is bumping along, but with increased confidence and much wider availability of funding, activity can be expected to pick-up later in the year as projects proceed to site in a wider range of markets in the UK.
"Data from 2014 so far points to a real challenge for contractors and clients. If growth in workload is so steady - why are resources so constrained so early in the cycle? Clearly part of the answer lies in the regional concentration of activity and the burst of procurement activity that is currently taking place.
"However, the wider market may also being talked up as localised sectors shift into overdrive.
"Today's release points to the fact that the construction recovery remains at an early stage and is yet to cemented by a step change in workload.
"The challenge for the second quarter is to ensure that projects in the pipeline remain viable and actually get built."