Award-winning Supply Chain Sustainability School expands into the facilities management sector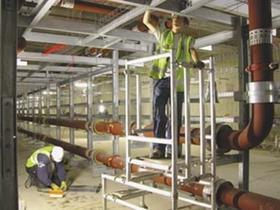 Major construction firms have backed the Supply Chain Sustainability School's new set of training modules for the facilities management sector.
The school, which launched in 2012 with the support of 15 major contractors, including Carillion, Kier and Skanska, delivers targeted training to subcontractors to improve their sustainability credentials.
The school provides suppliers with the ability to audit their sustainability credentials and take training to improve their performance and win more work.
The new facilities management (FM) part of the school is being launched with the support of FM firms Cofely UK, Interserve and Emcor.
David Picton, Carillion's chief sustainability officer, said the sustainability demands on the facilities management supply chain were "complex, dynamic and pressurised".
He added: "The school will offer a free support resource – built upon responsive, innovative and sustainable best practice – to help that supply chain meet the requirements of clients, managing agents, occupiers, users, regulators, other stakeholders and their wider communities".