Both Ucatt and Unite announce legal claims, bringing total number of cases to four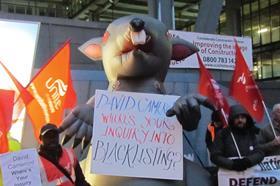 Four separate High Court blacklisting cases are now looming after unions Ucatt and Unite announced they are pursuing legal action against major contractors on behalf of their members.
In separate announcements, timed to coincide with the TUC national day of action on blacklisting, where projects such as London's Cheesegrater were picketed (pictured), the two unions set out details of their cases on Wednesday (20 November).
These follow two other existing High Court cases pursued by law firm Guney, Clark & Ryan and the GMB union, with the GMB saying this week it expects the four cases to be rolled into one by a High Court judge.
Unite said it had "just issued its first tranche of five High Court proceedings" against contractors including Sir Robert McAlpine, Balfour Beatty, Laing O'Rourke and its subsidiary Crown House Technologies, Skanska and Kier, with actions on behalf of a further 45 individuals to follow.
Construction union Ucatt – understood to be acting for around 70 potential claimants - said it is targeting firms including Skanska, Balfour Beatty, Bam, Costain, Carillion, Laing O'Rourke, Sir Robert McAlpine, CB&I and Vinci plus "an individual who held the position of chair of the Consulting Association (TCA) and was a senior HR manager for a major blacklisting company", whom it refused to name for legal reasons.
All of these firms apart from Bam and CB&I are part of the new Construction Workers Compensation Scheme for victims of blacklisting and all were companies that used TCA, the blacklisting firm that was exposed and shut down in 2009.
On current estimates, at least 270 people are likely to be represented in the four cases, or 57% of the 473 individuals now identified as having been on the TCA's 3,200-strong blacklist database.
GMB national officer Justin Bowden said: "It is likely that this will be consolidated into one [legal] action.
"The compensation scheme is increasingly becoming a sideshow. It falls short in a number of respects. If [the eight contractors involved] are serious, they need to respond and get down to serious negotiations."
A spokesperson for Sir Robert McAlpine said it had never operated a blacklist, was committed to maintaining good relationships with its workforce and to "responsible trade unionism".
Referring to the compensation scheme, the spokesperson said its members were consulting with groups including Ucatt and the Blacklist Support Group.
A spokesperson for Laing O'Rourke said: "We are aware of the proposed Ucatt litigation and await further correspondence from their legal representatives."
Skanska said it had "apologised for its involvement with TCA" and had signed up to the workers' compensation scheme.
Carillion, Balfour Beatty, and Bam declined to comment.
All the other contractors were unavailable for comment as Building went to press on Wednesday (20 November).