Industry feels down side of fourth consecutive quarter of growth in activity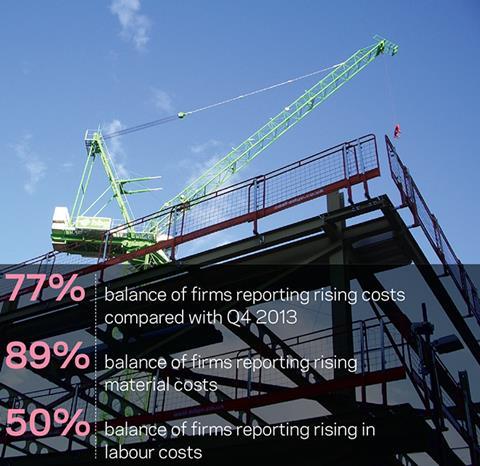 The construction industry has enjoyed a fourth consecutive quarter of growth in activity for the first time in six years, but firms continue to face the squeeze as material and labour costs rise, according to the Construction Products Association.
The Construction Products Association's (CPA) latest trade survey showed all parts of the industry reporting increased output in the first quarter of the year, including contractors, SMEs, specialist contractors, civil engineers and product manufacturers.
The survey found private housing was the key driver of activity, with 57% more contractors reporting that private housing output rose during Q1 2014 than fell, which is a sharp rise on 20% in Q4 2013.
This came after the latest Office for National Statistics construction output figures showed private housing continued to be the main driver of recovery (see box right).
The CPA survey also found 22% more building contractors reporting a rise in commercial offices and retail output in Q1 2014 than a fall, compared with 8% in Q4 2013, a significant rise in just three months.
However, the survey also found that contractors were continuing to experience rises in costs, with:
77% more contractors reporting rises in costs in Q1 2014 than falls, compared with 63% in Q4 2013;
89% more reporting rises in material costs in Q1 than falls, higher than the 65% in Q4;
50% more firms reporting rises in labour costs than falls, higher than the 34% of Q1 and 7% at the start of the 2013.
A further 47% more firms reported tender prices rose in Q1 2014 than fell, versus only 2% in Q4 2013.
Noble Francis, CPA economics director, said: "Tender prices rose in Q1, but any boost from this is likely to occur when the resulting work hits the ground later this year.
"Currently, the key concerns are the rising costs and skills availability in specific sectors, such as private new housing."
The survey found that while there weren't serious problems recruiting construction trades, a balance of 61% of firms reported that it was difficult to obtain bricklayers during Q1 2014 compared with 41% in Q4 2013 and only 10% one year ago.
A further 28% reported they had difficulty recruiting carpenters in Q1, slightly lower than the 32% in Q4 but contrasting sharply with the 3% that were having difficulties just one year ago.

Civil engineering firms report upturn, but fear skills shortage
Civils contractors are reporting rising workloads and orders, indicating recovery across the infrastructure sector, but firms are facing increasing difficulties finding skilled employees, the latest trade survey by the Civil Engineering Contractors Association (CECA) has found.
The CECA Workload Trends Survey for Q1 2014 found that the workloads of Britain's infrastructure and civils contractors have increased, with 39% of firms reporting increasing workloads, while 15% reported that workloads had declined.
The survey found that only three out of 10 sectors - airports (- 16%), local roads (-9%) and gas (-26%) - reported declining workloads when compared with Q1 last year.
The survey found that orders recovered strongly in Q1 2014, with 40% of firms reporting growth in orders, compared with just 3% in the final Q4 2013.
However, the survey found contractors reported escalating pressures to find suitably-qualified workers, with more than a quarter (26%) of firms struggling to find skilled employees.
Alasdair Reisner, chief executive at CECA, said the survey showed that "momentum is gathering in the recovery of the infrastructure sector".
But he added: "There is a looming skills gap in the infrastructure sector that must be addressed if the industry is to efficiently fulfil its potential as a driver of economic growth."
Meanwhile, specialist contractors reported more positive trading in Q1 2014, according to the latest National Specialist Contractors Council (NSCC) State of Trade Survey.
The number of specialist contractors reporting an increase in enquiries rose to 59%, the highest for over 15 years, while 50% reported an increase in orders since the last quarter.
The survey found 54% of specialist contractors anticipate an increase in workload over the next quarter and 71% expect to see an increase over the next year, the highest result recorded by the survey.
But late payment was still cited as a major issue by NSCC members, with just 14% paid within 30 days; 62% waiting between 30 and 60 days; and 23% saying it took between 60 and 90 days.