Contractors across the country are marking National Apprenticeship Week this week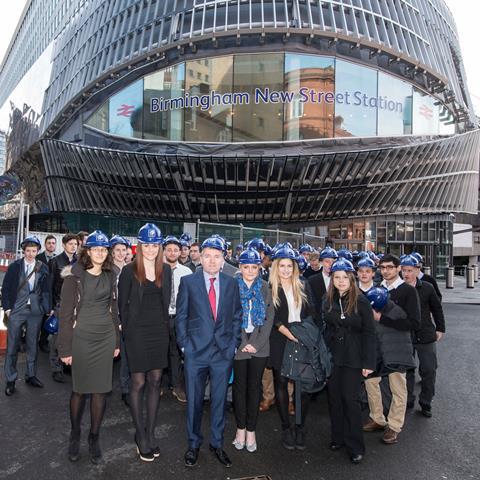 M&E contractor NG Bailey says it has been inundated with applications for apprenticeships as the UK marks National Apprenticeship Week.
NG Bailey said it had received more than 350 online applications in the first few days of advertising its new apprentice roles for 2014 – roles that will start in September.
The firm's apprenticeship scheme started in 1934 with Mike Darlington, the managing director of its engineering division, starting as an apprentice there 33 years ago.
David Hurcomb, NG Bailey's chief executive, said: "We always receive a huge amount of applications for our apprenticeship scheme, but early signs look like this year could be the most we've ever had.
"Focus is shifting and apprenticeship routes are definitely appealing to a larger number of youngsters."
NG Bailey currently recruits an average of 30 new applicants each year, to work across all areas of the business, including engineering, heating and ventilation and plumbing, as well as newer schemes such as facilities management and bids and proposals.
This week Balfour Beatty said it would create 50 new apprenticeships in addition to the over 200 apprentices it currently employs.
The 2014 pledge is in line with a commitment to ensure that within five years, 5% of Balfour Beatty's UK workforce are graduates, apprentices or sponsored students.
Meanwhile, Crossrail this week named its apprentice of the year award, which was won by a former self-employed labourer who was struggling to find work during the downturn.
Rudy Nieddu, 28, from Forest Hill works at Crossrail's Whitechapel site as an apprentice civil engineering technician with Balfour Beatty and fought off competition from two other award winners.
He was presented with his award by Crossrail Chairman Terry Morgan in front of more than 100 guests.
The award winners across the different categories were:
Overall Crossrail Apprentice of the Year: Rudy Nieddu, Whitechapel station
Construction Apprentice of the Year (General): Chloe Etheridge, Farringdon station
Construction Apprentice of the Year (Tunnelling): Rudy Nieddu
Corporate / Business Services Apprentice of the Year: Ben Khan, Whitechapel and Liverpool Street Station Tunnels
Apprenticeship Champion of the Year: Elaine Alderton, Farringdon station
Apprenticeship Employer of the Year: Laing O'Rourke, Liverpool Street Station, Tottenham Court Road and Custom House sites.