Factory scheme in Manchester has already blown budget once
Manchester council has been warned that costs on Laing O'Rourke's scheme to build an arts complex in the city called The Factory could go up again.
The landmark scheme has been designed by OMA and last year jumped £19m to a new figure of £130m.
But the council's resources and governance scrutiny committee yesterday heard the complexity of the project had meant the scheme was now in danger of busting its latest price tag.
Councillors were told the "complexity" of the building's design is the project's "most significant challenge".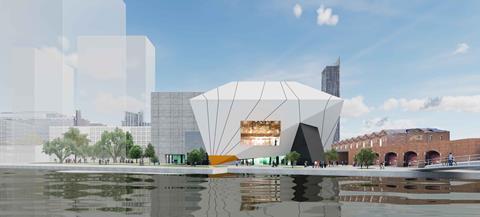 They heard this was acting as a deterrent to some contractors able to pick and choose more straightforward work amid Manchester's booming construction market.
The city council's director of capital programmes Jared Allen admitted the job had £4.1m in contingency funding that was currently "under pressure".
He said: "The Manchester market is very, very hot at the moment, so complex projects are not as appealing to the supply chain.
"We are finding the supply chain isn't as deep as it was in some areas. Only 11 of the 32 packages have been let.
"We are seeing increased pressure on budget. I can't give an absolute cast iron guarantee as those pieces are mostly not procured."
Allen added: "We've done quite a lot of re-engineering to reduce some of the cost pressure."
A report to councillors said O'Rourke had made good progress with steelwork contractor William Hare on site and this week the Bury firm began lifting a 125 tonne steel truss which will link a warehouse space with a theatre.
But Allen said contractors had discovered new drainage issues on the site, which was formerly part of the Granada Studios complex.
Allen told the committee the drainage issue related to the previously undocumented flow of foul water and "causes a lot of delay and a lot of financial pressure".
He said the authority had written to development partner Allied London, asking it to cover the cost of the additional groundworks.
A report to the committee said a review of costs of the M&E package, which has not been let, had already been commissioned.
Named in honour of Manchester's legendary Factory Records label – home to Joy Division, New Order, Happy Mondays and others – The Factory was originally designed to include a 2,300 standing-capacity theatre and a separate 5,000-capacity warehouse space for "immersive" events. Its design was subsequently revised with a reduced theatre capacity.
The site sits at the centre of the new St John's neighbourhood, planned to be a major creative hub in the city.
OMA beat a high-profile shortlist including Zaha Hadid, Bennetts and Rafael Vinoly to win the project in 2015. The job is due to finish in 2021.