Leo Quinn says it could be another year before normality returns
Balfour Beatty boss Leo Quinn has warned it could be another year before normality returns to the industry because of the covid-19 pandemic.
The country's biggest contractor turned in a pre-tax loss for the first time in four years yesterday when it slipped to a £26m loss in the six months to June – the first time it has been in the red since racking up a £21m loss in its 2016 interim results.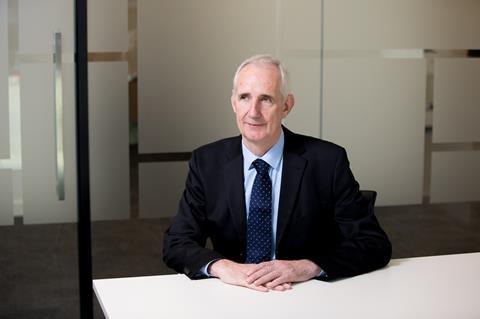 Quinn (pictured) has masterminded an ongoing recovery at the firm since taking over at the beginning of 2015, having announced a £304m pre-tax loss for 2014 at his first results presentation three months later.
But yesterday the firm unveiled the scale of the hit the virus has had on its numbers, turning an underlying £17m operating profit at its UK construction business for its 2019 half year into a £23m loss a year later – a swing of £40m.
"Covid has been very expensive for the industry," Quinn admitted. "Social distancing has had a massive impact on productivity and we've had the incremental cost of PPE."
And he warned: "Covid is not over. We don't know what the next six to 12 months will bring. Now is a good time to have cash. It's important to have a strong balance sheet that will steer us well for the future."
The firm had more than £500m cash in the bank at the half year and is predicting its full year 2020 average net cash to be in the range of £430m to £460m.
More than a quarter of its UK sites shut during April with those in Scotland and London especially affected but this rose to 96% of sites open by the end of June
Quinn, who said the firm had not been hit by any materials shortages during the crisis, added: "The number one priority was keeping sites open and maintaining liquidity."
He said the firm was seeing some rivals dropping prices to win jobs but said Balfour Beatty was not about to undo all the work it had undertaken in the past five years to repair its balance sheet.
"We will not take contracts on at any price," he said. "We won't revert to the terms and conditions we accepted in 2013/14. We are not interested in volume."
He said the firm "went to war" in terms of paying suppliers on time during the crisis. "As soon as we get it [cash], we want to get it out because we want to make sure that we keep the [subcontracting] capability in place."
But he declined to say whether the firm would follow the example of Morgan Sindall and pay back the money it has been paid by the government's furlough scheme – around £15m.
The firm furloughed around 3,000 people, with Quinn calling the initiative "inspirational" and adding: "All the money we've received, we've used appropriately to protect jobs and that was the purpose of the scheme."
He added the government had been "exemplary" with its help during the crisis but admitted some private sector clients had not followed government's lead.
The firm gave no guidance on what full year revenue for this year would be but said turnover in 2021 would be lower than the £8.4bn it posted in 2019. But it expects margins next year to improve on 2019's numbers where its operating margins at its UK and US construction businesses – which account for more than 80% of group revenue – stood at 2.1% and 1.4% respectively.